Apple is upgrading its 9.7-inch iPad with a faster ARM processor and is releasing a smaller 7-inch iPad in 2011, according to rumors. Digitimes reports that Apple is set to launch "an upgraded 9.7-inch iPad adopting a new ARM Cortex-A9-based processor and 512MB RAM in the first quarter of 2011." Apple is also prepping "a 7-inch iPad using the Cortex-A9 processor and an IPS panel with a resolution of 1024×768."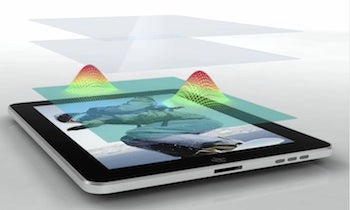 What's the New Technology?
The original iPad sported an A4 processor that Apple created on its own. If Digitimes' rumors are true, Apple will switch to the latest ARM technology and integrate the Cortex-A9. ARM boosted the Cortex-A9's processor speed up to 2GHz last year, which could make the iPad a seriously powerful device. The new processor also draws less power, thus improving the iPad's so-so battery life.
The second update is the reuse of IPS (in-plane switching) panel technology for the iPad's screen. In July, Digitimes claimed that Apple was switching to OLED screens for the newest iPads … that story has apparently changed. IPS is a great kind of LCD for the iPad, as it gives the iPad an impressive wide viewing-angle of up to 178 degrees, whereas other LCD technologies tend to have narrower viewing angles, especially in the vertical direction. Plus it's less expensive than OLED, allowing Apple to cut iPad prices.
What About the Pricing Structure?
A 7-inch iPad will likely cost a lot less than its first-generation brethren, as Apple is known for slashing product prices as the technology evolves. Fast Company notes this business trend by reminding readers about the original $500 to $600 iPhone that had no native apps. Then came the $200 cheaper 3G model with native app support. Then came the 3GS that had the same price as the 3G upon its debut but a faster processor, which knocked the 3G's price down to $100. Fast Company also says that people who buy first-generation Apple products are "suckers" and "lemmings with no self-control and excessive disposable income." Ouch — but possibly true.
There was a big fallout from the iPhone price cuts too — something Apple will want to avoid if it overhauls the iPad pricing structure. In 2007 Steve Jobs announced that the iPhone would be $200 cheaper, setting off a slew of protests. A lawsuit was even filed over the price cuts. So if Apple wants to reduce prices on its iPad line, it better do so carefully, as early adopters have a tendency to lash out.
How Reliable Is the Source?
Digitimes is known for Apple rumors, some of which have proven blatantly false. Last November it claimed that the Apple tablet would have a $2,000 price tag. It's also worth noting that Digitimes is quoting its own internal source — Digitimes' senior research analyst Mingchi Kuo — therefore, it could be creating its own news and hype.
Digitimes also mentions that the oft-mentioned Verizon iPhone will be revealed at CES 2011. For more on these persistent Verizon iPhone rumors, check out my colleague Ian Paul's analysis of that situation.
iPad with Wi-Fi + 3G 16GB