Box.net, a cloud storage provider, recognized that users on the go are often unable to connect with the cloud–often when access to the data stored in the cloud is most urgent. To solve that problem, Box is updating its iPhone and iPad apps to sync files for offline access.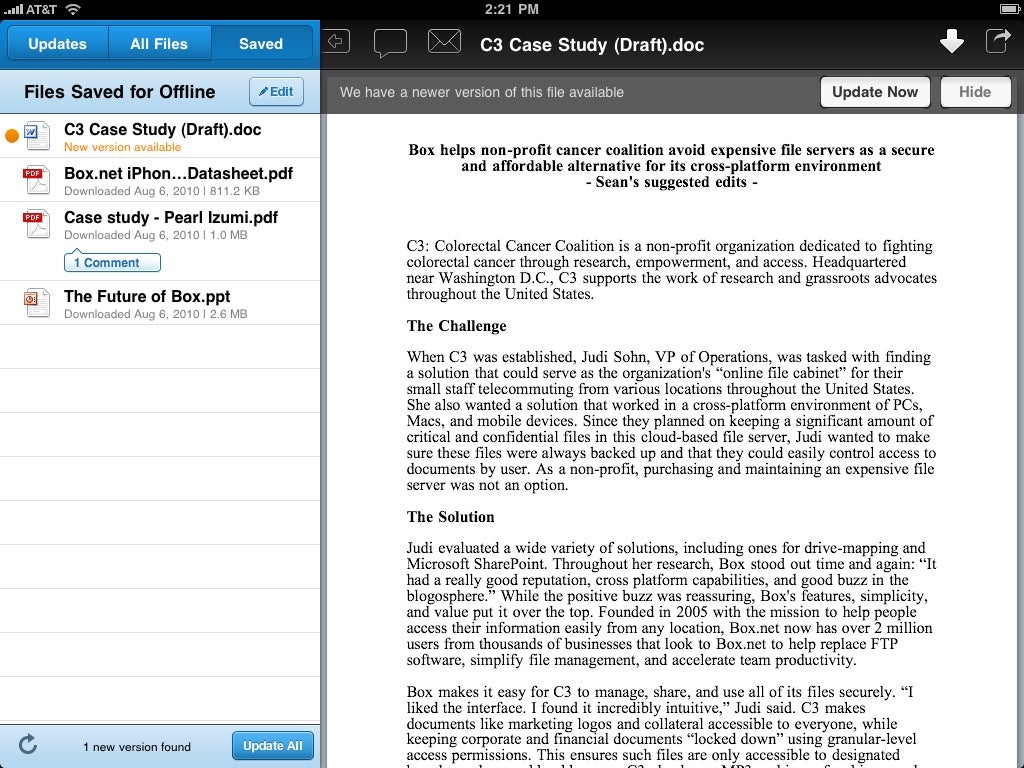 Aaron Levie, co-founder and CEO of Box.net, explains in a blog post, "Today's workplace has exploded beyond the office walls and into coffee shops, airplanes and our homes. At Box, we're building a powerful mobile platform to meet the demands of this increasingly mobile workforce, making it easy for you to access, share and collaborate on your content, wherever you are. But what happens when "wherever" has a spotty data connection, or no Wi-Fi access? We believe that just because your connectivity sucks, that's no reason your productivity has to suffer."
As an owner of a Wi-Fi only iPad, I can vouch for the fact that connectivity is a persistent issue almost every time I am out of the house. I still maintain that the Wi-Fi only iPad is the way to go for purely consumer use, but anyone looking to use the iPad as a mobile business tool should invest in the 3G version for the mobile connectivity.
With this new and improved Box app, though, perhaps that won't be necessary. The Box app saves designated files and folders to the iPhone or iPad so they are available locally even when you can't find an Internet connection. Once connectivity is reestablished, any changes or updates will be synced between the offline and cloud versions of the files–and Box provides a notification to warn you if someone else has also updated the same file.
The concept of syncing data offline on the iPad is not new. Memeo, a Box.net competitor, has already had offline file syncing to the iPad with the Memeo Connect Reader app. However, the Memeo app syncs with Google Docs cloud storage, and is only available on the iPad.
The free Box cloud storage service is similar to what Google Docs provides. Users must create a Box.net account, and can store up to 1Gb of files online at no cost. However, Box.net has a max file size of only 25Mb–a tenth of the max file size on Google Docs. Users can purchase 10Gb or more of storage space, and increased file sizes of 1Gb or more starting at $9.95 per month.
Levie sums up, "Mobile is going to get even hotter as businesses of all sizes recognize the value in making their information and processes more extensible by moving them to the cloud."
The new Box app helps bridge the transition from local storage to cloud data by making the cloud data available even if the cloud is not. It also has a caching feature that helps load files faster–reducing broadband data consumption and improving battery life.
The updated Box app will be available soon through iTunes. Box is also working on Android and BlackBerry 6 OS compatible apps.