Google decided to revamp Gmail to make its contacts easier to use and more business-friendly, but I already hate it. If you're like me, using Google's Web-based e-mail since 2004, maybe you've watched Muzzle, random signature, and Google Buzz come and go; used the automatic vacation responder; and may even have integrated Gmail with Microsoft Outlook.
Perhaps you may also work at a business using Google Apps, the business application suite of products including Gmail and Google Docs.
How have Gmail's contacts changed? Instead of the previous load of names and e-mail addresses spilling on to the screen–basically a list of anyone you have e-mailed or anyone who has ever e-mailed you–it lets users organize contacts into neat little pigeonholes such as "Friends", "Family", and "Coworkers", or you can create a unique title for any group of e-mail addresses and contact data.
A user can now add information including addresses, phone numbers, birthdays, and notes to each individual contact. The new contact interface also auto-saves, can undo changes, and automatically sorts by last name. (Contacts and Tasks are now found under Mail at the left of the screen: Click the minus sign to cover them up, and the plus sign to uncover.)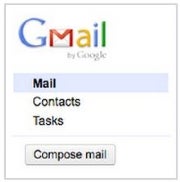 The new changes could benefit business clients by keeping personal, client, and vendor contacts separate, and to help with tracking office birthdays. Remember when you had to buy separate software to organize contacts? Creating new groups or moving contacts manually is no more difficult in Gmail than in any other e-mail system. (However, business users will have to wait a little while for these changes in Google Apps for which Google said it's "actively working on domain-specific features.")
But, don't we expect more from Google? Why can't the tech giant differentiate friends from strangers by using another genius algorithm? It already keeps track of who we e-mail most, so why can't it do some of the work for us?
Merging contacts and moving boxes around to different parts of your address book isn't anything new, but an application that would add phone numbers, addresses, and other information from existing e-mails would be. This is where Google could win the hearts and minds of clients, by searching e-mail for that information and adding it in for them. It could ask a few questions to customize each user's experience, and make this a feature that no one could do without.
I don't think the new contacts information helps the average person any more than a Windows-based desktop e-mail client, such as Outlook, would. Perhaps the new contact grouping could be beneficial, but I probably won't use it. Who wants to spend more than five minutes a day doing boring data-entry on one's contact lists?
In an office, employees may also be less inclined to do the work by hand–especially since Google already auto-completes e-mail addresses, so you really don't have to remember much of a contact's e-mail address. Workers may also resist updating contact information when they, too, must add addresses, phone numbers, or notes.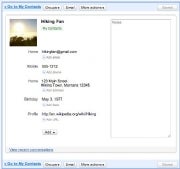 Any other problems with the new interface are likely to be due to personal preference. Google says that you can turn off most of the changes by clicking the minus sign next to Mail, which sucks up the new Contacts and Tasks. I did so, but still found that I didn't like the new format. I know that a Compose Mail text-link existed before almost in that same spot as the new Compose Mail button, but I don't like it. (Google users also disliked when Google exchanged high-resolution images for its plain white homepage, so we are a critical bunch.)
While the new version of Gmail isn't as intuitive as the older version (which you can still use by scrolling to the bottom of the page, then clicking "older contact manager" or "older version" in Gmail View), it does provide new uses for businesses and the highly organized. For the rest of us, I can say that I liked it just as it was.
Barbara E. Hernandez can be reached or followed on Twitter at @bhern.