At a Glance
Expert's Rating
Pros
Record-breaking performance
Gorgeous chassis
Our Verdict
Offering the highest general performance we've seen to date, the Genesis is arguably worth the arm and leg that Origin is asking in trade.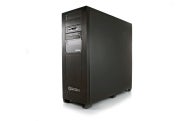 Origin is a newcomer to the boutique PC vendor field–sort of. Though the company is relatively young, it's manned by former Alienware bigwigs who thoroughly understand high-end PCs. And when the Origin Genesis arrived at the PCWorld Labs in a 124-pound wooden crate, we knew we were in for something impressive.
The Genesis did not disappoint. Keep in mind that the model we reviewed is not for the faint of heart–or pocketbook. At $6996 (as of August 9, 2010), it joins the Maingear Shift at the upper echelons of the performance PC category's price bracket. And like the Shift, it crushed every metric we have available.
Origin spared no expense in assembling the Genesis's loadout. At the machine's heart is a Core i7-980X, Intel's six-core, performance-oriented processor. The CPU is overclocked from its stock speed of 3.33GHz up to 4.3GHz; a network of blood-red arterial tubing pumps liquid coolant around the chassis, lest the silicon fry. The Genesis also offers 12GB of DDR3-1600MHz RAM and 2.1TB of space, in the form of a pair of solid-state drives in RAID 0, and a pair of 1TB storage drives.
The Genesis earned a WorldBench 6 score of 194–the highest mark we've seen to date. The CyberPower Black Pearl achieved a score of 171, a 13.4 percent difference with a 66 percent difference in price ($4200 for the Black Pearl). The midtower variant of the Origin Genesis hit 190 (the second-highest score to date), and will set you back $3592–that's a 2 percent performance difference at almost half the cost. From a price-to-performance standpoint, the Genesis has a lot of explaining to do. But a closer look at the components helps to narrow the gap.
Three of nVidia's GTX 480 graphics cards are linked in SLI, their monstrous heat dissipated by the aforementioned liquid-cooling arrangement. On our Unreal Tournament 3 benchmark, the Genesis produced an average of 208 frames per second. In Dirt 2, we saw 190 fps (at 2560-by-1600-pixel resolution and the highest settings).
CyberPower's Black Pearl, which carries three of ATI's Radeon 5870 boards in triple-CrossFire, reached an average of 194 frames per second in Unreal Tournament 3 and 120 fps in Dirt 2. These scores are all absurdly high, but a good barometer of a machine's graphical prowess–neither the Genesis nor the Black Pearl is likely to be outclassed anytime soon. For comparison's sake, consider a PC at the lower end of the performance spectrum: the HP Pavilion Elite HPE-390t ($2049), which is equipped with a single ATI Radeon 5770. Its scores in Unreal Tournament 3 (67 fps) and Dirt 2 (59 fps) are still quite good, but far lower than those of the competition.
As for the Genesis's build, when you invest this much into a machine, you expect to be tinkering with it for a long, long time. The model we reviewed came in a Corsair 800D case–the same behemoth of a chassis that housed our test Black Pearl. The case offers nearly complete tool-free access; the side walls, for instance, pop off with the press of a button, revealing an expansive interior.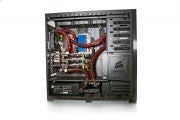 The PCI cards are held down by thumbscrews. Plastic grommets funnel component cables to a discrete bay on the opposite side of the chassis, but the space afforded is taken up by tubing for the liquid-cooling array. The system has a single free PCI slot, but you'd have to sacrifice the liquid cooling on your graphics cards to access it. Ditto for the optical-drive bays.
The liquid coolant's reservoir is housed right up on the front of the machine, so you're "stuck" with the included Blu-ray writer and multiformat card reader. The Genesis's two storage drives are hosted on hot-swappable bays, accessible from the front of the case; the interior has room for two more. Overall, you'll find plenty of potential for upgrades here, but Origin has packed the machine to the gills. As it stands, components are readily accessible, and you'll have no trouble swapping out the existing media drives or upgrading the storage. Replacing the graphics cards will require a bit of wetwork, but that much is expected with liquid cooling.
On the front of the Genesis, a trap door hides four USB ports, one FireWire port, and the headphone and microphone jacks. A fifth USB port resides on the multiformat card reader. Of course, also accessible on the front is the Blu-ray writer–an expected accoutrement, considering the price tag. A machine this large is likely to spend much of its life on the ground, so having a variety of connectors front and center keeps things nice and convenient.
The rear of the system provides seven more USB ports, another FireWire port, an eSATA port, and a pair of USB 3.0 ports, as well as 7.1-channel audio and a PS/2 serial port for keyboard purists. Joining the standard gigabit ethernet connector is Bluetooth support. Finally, the graphics cards supply a total of six DVI connectors and three HDMI ports. Unless the lack of dual gigabit ethernet connectors hampers your workflow, there really isn't much more you could ask for.
Of particular interest to the tinkering crowd are features unique to Asus's Rampage III Extreme motherboard. First is the ROG Connect port: Attach a compatible desktop or laptop to it, and you'll be able to monitor your hardware and manipulate your overclocked components in real time. RC Bluetooth offers similar functionality, for Bluetooth devices–if you've ever felt the need to monitor your computer's health or tweak its performance from a cell phone, your PC (to be fair, your motherboard) has arrived.
One expected drawback: This computer is heavy, weighing just over 82 pounds. But surprisingly enough, it isn't alarmingly loud. You'll certainly hear the machine hum as it crunches through its work, but its large fans and its reliance on liquid cooling keeps things relatively tranquil.
A custom-printed manual and DVD case round out the package. You won't find anything especially unique about the content, which consists of your standard instruction and troubleshooting guide, coupled with system installation and restore discs. But it does lend Origin's wares an air of class. Yes, you're spending $7000 on a PC, and the 1500W power supply and trio of power-hungry graphics cards will make you fast friends with your electric company. But Origin's attention to detail here–beyond the system's raw power–tries hard to make that investment feel justifiable.
Let's be honest: Paying this much for a gaming PC is absurd. You'll get a better price-to-performance ratio from machines that are less expensive–the Digital Storm Black Ops Assassin, for one, will set you back $3400 and offers very strong general and gaming performance.
But the Genesis is arguably worth it. A conservative estimate puts the parts list at about $5000, leaving a $2000 price tag on Origin's free tech support and labor policy, a strong overclock coupled with a meticulous liquid-cooling arrangement, and an expansive, upgrade-friendly chassis. The Core i7-980X CPU shines when working with heavily multithreaded applications, as it churns through video editing or 3D-rendering workloads with aplomb. And though the triple-GPU setup is a bit excessive, it won't be bested anytime soon.
If you're just hoping to impress your gaming buddies, look a bit lower down the performance PC totem pole. This machine is outfitted for people who want it all, and who will spare no expense to get the unmitigated power they need for work and play.