Mozilla recently released Firefox 4 beta 3, which includes a very new and interesting feature for Windows 7 users: multitouch. The new capability harnesses the multitouch capabilities of Windows 7, and is a first for the open source browser.
Firefox 4 multitouch for Windows 7 includes a variety of touch-based actions that let you manipulate and move content, zoom in and out, and even cut images with a simple finger swipe.
To use Firefox 4's new multitouch feature you will need a touch-enabled computer screen. Firefox multitouch is based on the same software that governs mouse clicks, but includes some of its own modifications that allow you to interact with Web content using several fingers at once. It's unclear whether multitouch will work with regular web pages right now or whether developers must enable the feature for each site you visit.
Regardless, Firefox's multitouch could become a standard part of HTML–the markup language that governs the web. Firefox developer Felipe Gomes says Mozilla plans to submit its touch-based solution to the World Wide Web Consortium for consideration as a standard. W3C is the group responsible for developing specifications for HTML, CSS and other Web-based protocols.
The latest Firefox beta also includes an improved JavaScript engine that is supposed to make online graphics look smoother and faster. Future plans for Firefox 4 may include a new feature called Tab Candy that would allow you to easily organize multiple open tabs. However, it's not clear if Tab Candy will be ready in time for the final release of Firefox 4.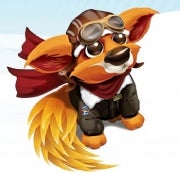 Previous beta builds of Firefox 4 included new visual features such as the Google Chrome-inspired tabs on top look for OS X and Windows (Linux users will get this feature soon). Traditional Windows menus were reorganized under a single Firefox button for Windows Vista and 7 users. The bookmarks menu was moved to the far right of the Firefox window for all users, and you can also quickly switch between tabs using the Firefox Awesome Bar.
The final version of Firefox 4 is scheduled for release later this year, and at least two or three more beta versions are expected in the coming months.
If you want to give the latest beta version of Firefox 4 a try, you can download it here. Mozilla says Firefox 4 is safe for everyday browsing, but remember — this is still a beta release, so the browser may be a little buggy. It could crash and it will most likely disable some of your add-ons.
Connect with Ian on Twitter (@ianpaul).