Google has beefed up the latest beta of its Chrome Web browser by simplifying its features, boosting page-load speed, and packing it tight with many useful add-ons to enhance your browsing experience. Chrome Beta 6 is now available to download.
Speed Boosts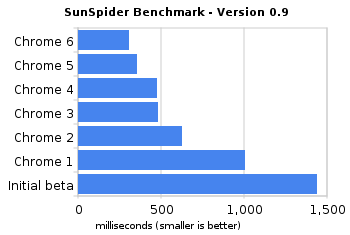 Chrome boasts impressive speed boosts. Beta 6 hits a "15 percent speed improvement on the V8 benchmark, and a 15 percent improvement on the SunSpider benchmark, both of which measure JavaScript performance," according to the Chrome blog. Google says the browser also improved by 64 percent on Mozilla's Dromeao DOM Core Tests (click on the images for a closer look at the graphs).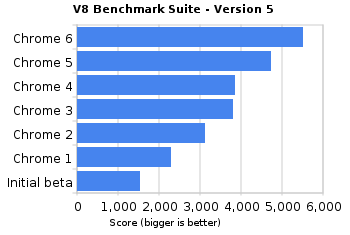 In its blog, Google doesn't claim to have the fastest browser on the market — a hefty declaration that most other browser manufacturers make. When Opera 10.5 was released in March, it was supposedly the fastest browser available. But Apple said Safari 4 Beta owned that crown — a claim that was later shot down by tests. Internet Explorer 9 — often the slowest of the bunch — beat everybody in HTML5 tests (Chrome scored a distant last). It's difficult to tell who is the fastest — which would explain why some people have a slew of browsers downloaded onto their computers.
New Features
Chrome Beta 6 has a bunch of new features and improvements that are ready for download. Here's a choice few:
Add-Ons and Safety
Chrome has no shortage of browser add-ons, nor does it skimp on Web safety settings. NotebookReview.com listed the 15 best Chrome security extensions for the ultra-paranoid. The best-sounding ones are:
Gizmodo also has a list of the top 10 Chrome add-ons you should know about. My favorites:
(See also PC World's "Top 10 Chrome Browser Add-ons" for another selection.)
Constant Updates
Google has been pumping out Chrome updates faster than users can keep up — and that's the point. In a blog post entitled "Release Early, Release Often," Google said that "running under ideal conditions, we will be looking to release a new stable version about once every six weeks, roughly twice as often as we do today." The idea is that since Google creates new features so quickly, it wants to make sure every user gets a stable and speedy copy of the browser as soon as possible. (Google promises users of the stable version of Chrome that these improvements will be available "soon.")
Though these constant updates may instigate user headaches, it's a sign that Google aims to be the Web browser leader, blasting past its competition with the latest and greatest.