"Dude, you're getting a Dell" is gradually taking on a new meaning, as Dell pushes into mobile with the Streak tablet and a bunch of new smartphones.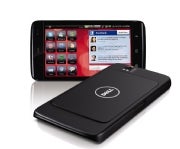 The Dell Streak launches Friday, priced at $550 without a contract and $300 with a voice and data plan from AT&T. Depending on whether you opt for voice coverage, the 5-inch device is either a massive smartphone or a tiny tablet.
Either way, this is new territory for Dell, the third-largest PC maker in the world. Dell has never launched a smartphone or tablet in the United States before, but over the next several months, we're going to see a lot more as the company tries to reinvent itself.
The first proper smartphone from Dell will be the Aero, an Android smartphone that is coming to AT&T soon. With a 624 MHz processor and only 2GB of memory to start, it's clearly a low-end smartphone, not the next Droid rival.
Later this year, we may see the Dell Thunder, an Android phone with a 4.1-inch OLED display, an 8-megapixel camera and 720p video capture. A prototype video posted to Engadget shows a monolithic device that combines sharp horizontal edges with rounded grips, but Dell has not officially confirmed its existence. If the Thunder is real, it represents Dell's best shot at a genuine Android superphone.
Dell will also reportedly hedge its Android bets later this year with the Dell Lightning, a Windows Phone 7 handset. Lightning is rumored to have a 4.1-inch OLED screen and a similar design to the Thunder, but with a physical keyboard that slides out vertically.
So far, Dell's approach looks unbalanced. The Aero, even if it finds a demographic, is certainly not going to make a splash when it launches, and the Streak is provoking mixed reactions as pundits debate where the 5-inch device fits in. Dell's smartphones look promising by today's standards, but at the rate of improvement we're seeing from competitors like HTC and Motorola, there may be little to distinguish Lighting and Thunder when they arrive towards the end of this year.