What goes down must eventually come back up, but I'll bet you weren't expecting Irrational's startling recast of the BioShock tale to take that inverted aphorism literally.
I mean up. Way up. Up in the air and high in the sky, like where Jet Blue's Steven Slater was shortly before deploying the plane's escape chute and sliding to the tarmac with a couple of beers, one in each hand, like a pair of stumpy (but festive) traffic control wands.
To infinity and beyond? Try to Bioshock Infinite, the weird, but somehow-not-in-a-bad-way name of Irrational's third BioShock game. And get this: It's set in 1912, decades before either of the original two games took place, and in a floating skyward steampunk-style city named Columbia (which students of etymology will recognize as a poetic name for New World America, not the country in South America–that's with an 'o'). Think hot air balloons instead of diving bells, funky automatons with beating hearts for heads in lieu of faceless Big Daddies, and an art nouveau aesthetic instead of the old art deco shtick.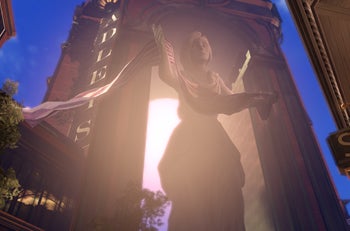 Yep, Irrational's gone and upended the franchise, if it's even fair to call BioShock Infinite part of the same franchise. No one knows. Ken Levine won't say. Is "Project Icarus"–that's the game's codename–even set in the same universe as BioShock?
"That's a good question," he told Sony at the official PlayStation blog. "That's something that people should keep their eyes on–once the gameplay footage comes out, there will be some things that will make people ask questions along those lines, and wonder about any of those kinds of connections.
So yes, it is, at least in some capacity, or he wouldn't waste words teasing us. But in the specifics of those connections, however tangential, must lie an essential kernel of the game's story or central mystery. At least that's my bet.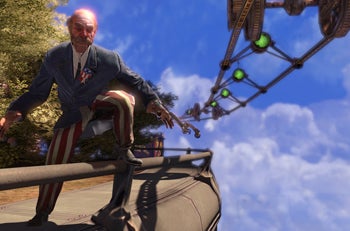 In the meantime, Levine describes the story as another "city gone missing" head-scratcher, in which you're contacted by someone who wants you to go to Columbia, "a city which has disappeared into the clouds."
"Columbia was founded as sort of a shining city on a hill, an example of American ideals–Jeffersonian, Democratic ideals–and the city would move around the world like the White Fleet," says Levine. "Like the Apollo space project, it was an example of what American ingenuity and ideals can do"
Apparently as Columbia flew the friendly skies, it got snarled in "a violent international incident that was shocking to the world." And then the city exited, stage wild blue yonder, and no one's seen it since.
"The man who has contacted you knows where the city is," explains Levine, "and he wants you to go there to find a young woman named Elizabeth. She's been imprisoned in a tower there since she was five years old, for 15 years, and your mission is to get Elizabeth [an artificially intelligent ally?] out of the city and back to Earth."
"When you arrive in Columbia, you sense this is going to be a different kind of mission. You also learn that Elizabeth is squarely in the center of a conflict that's going on in the city. And you get more than you bargained for."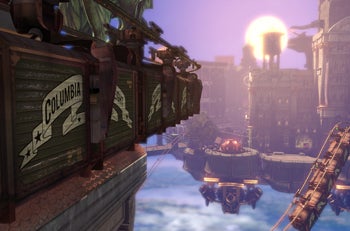 Hello weird and wild-looking action game none of us were expecting, and which I'm having a hard time not applauding for its ridiculous audacity. If anyone else tried this, I'd be gauging the distance the shark just jumped. But this is Ken Levine. He could make a game about reading the phone book that probably wouldn't suck.
The trailer is here, as is the new fancy-shmancy official website, and the game's coming for Windows, Xbox 360, and PlayStation 3 simultaneously in 2012. I'd normally append a plaintive 'alas' given the span, but in this case, I'll gladly wait.
Follow us on Twitter (@game_on)