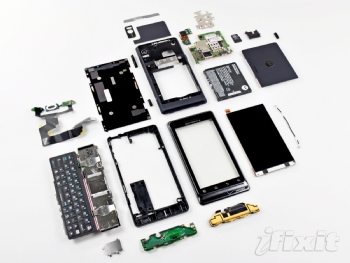 The folks over at iFixit have made a name for themselves with their teardowns of the latest gadgets. This time, the Droid 2 got the teardown treatment, as it quivered in fear saying, "No disassemble!" Just kidding about that last part–I hope.
iFixit characterizes the Droid 2's technical improvements as "significant evolutionary changes," and that "the phone's internal layout is so similar to the original Droid that it is difficult to discern which is which once they're apart." The new phone features a 1GHz processor, an improvement over the 550MHz processor of the original Droid.
Also of note: The Droid 2 has the same screen size and resolution as the original, its camera can now capture 30-frames-per-second video (the original could only record at 24fps), and its Wireless networking got a boost to 802.11n–the original Droid only handled 802.11g Wi-Fi.
iFixit's teardown has step-by-step photos of the Droid 2's deconstruction, and you can find more geektecular hardware details at the iFixit blog.
[iFixit]
Like this? You may also enjoy…
Follow GeekTech on Twitter or Facebook, or subscribe to our RSS feed.