You found something cool on the Web–say, a photo or incredibly helpful Hassle-Free PC tip. Now you want to share it with friends, and maybe add a few comments to what you're sharing.
Check out Bounce. This slick little Web app takes a screenshot of any page, lets you add comments to one or more parts of that page, then share it via Facebook, Twitter, or e-mail.
To get started, copy the URL of the page you want to share. Then head to the Bounce site, paste in the URL, and click Grab Screenshot.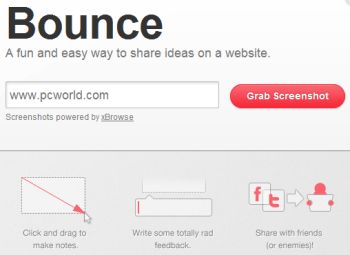 In a few moments, you'll see the page you captured, but with a simple Bounce toolbar across the top. Now click and drag a box around any area you want to spotlight, then add some comments in the area below it. Repeat this process as needed.
Finally, click the red Save button up in the Bounce toolbar. That'll generate a custom URL you can copy and paste into an e-mail. Alternately, you can click the Facebook or Twitter icons to share this "feedback" (that's what Bounce calls your comments) on either service.
Bounce is totally free, and it doesn't require any kind of registration. Nice!