Oracle has filed a lawsuit against Google, claiming that Google's Android software infringes on seven Oracle patents and copyrights related to Java. The suit was filed Thursday in the U.S. District Court in San Francisco and seeks a jury trial.
This lawsuit — which will inevitably drag on for months — carries hefty potential consequences for Google and perhaps the mobile industry at large. Can this lawsuit dismantle the Android OS? Will restrictions on using Java on mobile phones affect the entire market?
The Lawsuit
A copy of the complaint says that "Android (including without limitation the Dalvik VM and the Android software development kit) and devices that operate Android infringe one or more claims of each of United States Patents Nos. 6,125
,447; 6,192,476; 5,966,702; 7,426,720; RE38,104; 6,910,205; and 6,061,520." The challenge should have been expected, the Telegraph reports, as Google has hired former Sun Java engineers in recent years. Also, Business Insider points out another reason Google "should've known better," in that Google CEO Eric Schmidt previously led the team that developed Java at Sun Microsystems. Schmidt resigned as Sun's chief technology officer to take Google's helm in 2001.
Google says it has not yet been served with the lawsuit and therefore cannot comment. It has not responded to requests for comment.
When Oracle purchased Sun Microsystems for $7.4 billion last year, it acquired Java, which is essentially everywhere on the Web and mobile devices. Oracle CEO Larry Ellison called Java "the single most important software asset we have ever acquired."
Google's Android OS runs off Google's own Dalvik Virtual Machine, which relies on Java software. However, when you look under Android's hood, it appears Dalvik VM isn't 100 percent Java, but rather a modification of the software: "From a developer's perspective, Dalvik looks like a Java Virtual Machine, but strictly speaking, Dalvik is not a JVM. Dalvik executes dex bytecode, not Java bytecode. And there are differences in the structure of Dalvik class files as compared to Java class files. Nevertheless, for all intents and purposes, building an Android application is really an exercise in building a peculiar sort of Java application," PCWorld reports.
Even though Google depends on Java, Google's chief Java architect, Josh Bloch, had some harsh words about Oracle's treatment of the platform, claiming Oracle has been neglecting its evolution. Bloch cited a number of shortcomings: the length of time between new versions of Java continues to grow; Java 7's ship date keeps slipping back; and the future of the Java Community Process (JCP) remains murky. He noted that the code base is, for the first time, in danger of being forked.
Bloch also had contentions with Java's complicated licensing practices and credits Oracle's complacency with the rapidly declining usage of Java. Tiobe Software backs up these claims by noting that for the first time in four years, Java, normally the most-cited language, has been surpassed in popularity by the C programming language. Tiobe attributes this decline to the growing use of other, simpler, languages that use the Java Virtual Machine.
Many predicted this lawsuit would come sooner or later. When Google was developing Android back in 2007, it was apparent that the search engine giant would scuffle with Sun Microsystems, which owned the Java software at the time. Google's was said to have built Dalvik Virtual Machine to get around licensing issues with Sun.
Another element of the Android OS might've stirred anger in Oracle. "Prior to its acquisition by Oracle, Sun proved hostile to the Harmony Project, the Apache Software Foundation's attempt to build an Apache-licensed Java SE implementation. In addition to Dalvik, Google also uses Harmony's class libraries in Android, which has apparently aroused the ire of Oracle," Ars Technica reports.
A Somewhat Unexpected Turn of Events
Java was hitherto considered very open software, which fits with Google's open-source Android philosophy. The lawsuit therefore came across as somewhat of a surprise in the tech community.

"The legal challenge set off shock waves in the Silicon Valley software community. Sun, though it amassed thousands of patents, was one of the biggest backers of freely sharing programming technologies. Though Sun cut licensing deals to sell Java, it offered free versions under what the industry calls open-source licenses," the Wall Street Journal reports.
Oracle instituted massive layoffs of Sun employees after its acquisition, perhaps taking a symbolic stand to show that it owns Java now, and nobody else.
Still, other mobile and technology companies "pay relatively small amounts to license Java to run on large numbers of devices, and there were concerns in some quarters when Oracle bought Sun that it would seek to wring more money from its control of the software," the Financial Times reports. Though Oracle's lawsuit could be seen as a somewhat unexpected turn of events, it boils down to the fact that Google should have been aware of the consequences inherent in its use of Java.
Perfect Timing
Suing Google at this stage in the game is perfect timing on Oracle's part. Android device sales far exceed any other mobile operating systems. According to Google CEO Schmidt, Google activates more than 200,000 Android devices per day — a massive number indicative of the Android's omnipresence.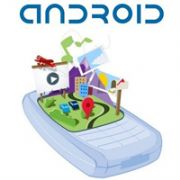 The lawsuit therefore may be Oracle's attempt to infiltrate the mobile market. "It's no coincidence that research released this week shows drastic gains in Android popularity and manifold increases in Google mobile search (the real source of revenue behind Android, which is open source). If Oracle can force a deal with Google, it suddenly has at least a business class ticket on the mobile train and can even start looking at vertical markets that include mobile technologies," ZDNet reports.
Delving into the mobile market would be a dramatic shift for Oracle, as neither it nor Sun were ever consumer gadgets companies. The mobile market has grown exponentially over the past few years and has intense competition — Oracle switching (or extending) its corporate gears could prove to be an epic success or a colossal failure.
Potential Impact on the Mobile Phone Industry
After its acquisition of Sun — a company that was relatively lax about the use of Java — Oracle has been more aggressive about making money off of its software. Now that Google is Oracle's target, there's a high potential that Oracle may go after other mobile companies and perhaps demand higher royalties for the use of Java.
If this scenario plays out, Oracle could make a lot of money. Higher prices may send mobile companies scrambling towards some other type of technology — or creating Java alternatives — to serve their needs.
The Other Anti-Android Lawsuits
Oracle's lawsuit isn't the only one currently targeting Google's Android. Apple filed suit against mobile phone maker HTC in March, claiming HTC violated 20 Apple patents related to touch and gesture features, including finger-swipe unlocking mechanisms, power conservation, touch-screen scrolling, and accelerometer capabilities.
Apple's suit was seen by many as an indirect shot at Google. Others considered it an impetus for mobile phone makers to avoid Android and develop an interest in , which has seen delays, partially due to Android's popularity and Microsoft's tendency to release unfinished products.
Speaking of Microsoft, the tech giant recently sealed a partnership with HTC, giving HTC broad access to Microsoft patents for phones it makes running Android. Microsoft also claimed that Android infringes on Microsoft's patents, though a lawsuit seems unlikely. "Microsoft deputy general counsel Horacio Gutierrez said that, although Microsoft prefers to resolve intellectual property licensing issues without resorting to lawsuits, it has a responsibility to make sure that 'competitors do not free ride on our innovations,'" according to CNET.
Does Oracle Stand a Chance?
As of this writing, Oracle's market cap is at $113.5 billion compared to Google's $155.1 billion. Pitting those massive fortunes head-to-head is bound to launch a long-lasting legal battle that may outlive our attention spans. The outcome is uncertain.
ZDNet mentions that "a fair number of analysts believe that there will be some sort of licensing deal that comes out of this, although the size and scope may very well not be the windfall for which Oracle is looking." Since Oracle hasn't declared its monetary damages, it's also uncertain as to how big a chunk Oracle intends to bite out of Google's finances.