At a Glance
Expert's Rating
Pros
User-friendly chassis
Chart-topping performance
Cons
Dual-core processor may be an Achilles' heel
Our Verdict
Offering a strong overclock and a readily accessible chassis, Maingear's F131 clambers to the top of the mainstream PC chart.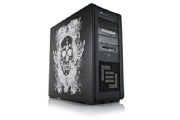 The Maingear F131 hits the upper limits of the mainstream PC category, in both performance and cost. But you get quite a lot of bang for your buck, as the F131 delivers much of the muscle and flexibility of beefier machines, at a respectable price of $1999 (as of August 12, 2010).
The F131 is equipped with a Core i5-655K processor. Though this dual-core CPU has a stock clock speed of 3.2GHz, Maingear has overclocked it to a staggering 4.5GHz–the secret to the machine's category-leading performance. Coupled with 4GB of DDR3-1333 RAM and a 1TB hard drive, the processor helped the F131 earn a score of 152 on our WorldBench 6 test suite–the highest score in the category, and a mark that approaches those of lower-end performance desktops.
Its graphics performance was equally impressive, thanks to a pair of nVidia GTX 460 graphics boards arranged in SLI. On our Unreal Tournament 3 benchmark, the F131 produced an average frame rate of 120.3 frames per second. In Dirt 2, it achieved 85.8 fps (at 2560 by 1600 resolution and the highest settings). Those results dwarf the frame rates of even well-heeled competitors in the mainstream category: For instance, the Dell Studio XPS 7100, which packs a single ATI Radeon 5870, served up 88 fps in Unreal Tournament 3 and 55.5 fps in Dirt 2. The F131's showing isn't too surprising, however–the two GTX460 boards deliver tremendous performance, and the $200 price tag for each card keeps the cost of the entire ensemble within reason.
Complementing that excellent general and gaming performance is the well-designed chassis. The front offers a few expansion bays, a DVD burner, and a multiformat card reader with a USB port. On top of the case, you'll find a bucket of sorts to rest your devices while they're charging. It also offers two more USB ports, a FireWire port, and the headphone and microphone jacks.
On the rear of the case are PS/2 serial connectors for a keyboard and mouse. The motherboard provides six more USB ports, an eSATA port, one FireWire port, and a pair of USB 3.0 ports. A PCI card sports an additional pair of USB ports (bringing the total to 11) and another eSATA port. Among the standard offerings are a gigabit ethernet port and 7.1 channel sound. Each GTX 460 card has two DVI ports and one HDMI port.
Thumbscrews keep the case doors secure, but the machine also has a quick-release latch, if you'd prefer more immediate access. Inside, the plethora of 5.25-inch and hard-drive bays permit completely tool-free access. You'll need to break out your screwdriver if you're going to work with PCI components, however. The GTX 460 boards are locked in by a Card Keeper, a bulky plastic shell that ensures that they stay mounted securely during transport.
Cable management is exemplary: Wires snake along the side of the chassis, out of the way. This setup optimizes airflow, which is especially important since the unit is air-cooled, relying on large, quiet fans to keep the overclocked processor in working order.
A chassis this user-friendly–roomy, hassle-free, and offering plenty of room for future upgrades–is usually relegated to higher price brackets. Oh, and the laser-engraved skull is entirely optional, if that isn't your cup of tea.
As is generally the case with boutique vendors, no keyboard or mouse is bundled with the machine. You can order them directly from Maingear if you'd like, but you're generally better off finding a set of peripherals tailored to your particular needs.
The F131 is bundled with a binder full of comprehensive documentation. The machine's build process is catalogued with granular detail, the company's employees signing off at every step. It's a neat personal touch, but more important it makes tracking down the support you might need a bit easier. A pair of games, Street Fighter 4 and Napoleon: Total War, are also included, so you can hit the ground running.
The Maingear F131 is built strictly for gaming, which is at once a blessing and a curse. Its dual-core processor's heady overclock offers impressive general and gaming performance. Should it come time to get some work done, however, you'll probably begin to miss the added headroom that a quad- or hexa-core processor can provide.
Though the F131 dominates the mainstream category, always keep your requirements in mind. If you need power but you don't necessarily want a gaming machine, a lower-end performance PC will give you stronger, multithreaded general performance for just a few hundred more.