At a Glance
Expert's Rating
Pros
Excellent keyboard/touchscreen design
BlackBerry 6 OS adds much-needed features
Cons
Performance can be sluggish
Display has lower resolution than rival phones
Our Verdict
The Torch smartphone successfully delivers a design that is both innovative and familiar to BlackBerry users, but its performance and features aren't quite up to par.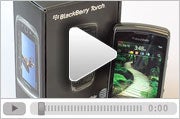 RIM's new BlackBerry 6OS-based Torch 9800 smartphone features a modern, spruced-up user interface, but BlackBerry owners will feel right at home. Are these changes enough to win over new customers and to compete with the ever-growing Android army? Ginny Mies takes a look.
When you purchase through links in our articles, we may earn a small commission. This doesn't affect our editorial independence.