The Verizon iPhone is still speculation, but a survey says the arrival of a CDMA iPhone would steal a sizeable chunk of AT&T and Sprint customers. Over half of current Verizon customers say they intend to get an iPhone with the carrier, while almost a quarter of AT&T iPhone customers would jump ship in frustration of network quality, the survey from Morpace Omnibus says.
Morpace Omnibus' poll of 1000 American consumers claims that more than half of all Verizon subscribers are likely to buy an iPhone on the carrier's network. The survey also shows that 23 percent of current AT&T customers would go for a Verizon iPhone, 22 percent of current Sprint customers, and 20 percent of T-Mobile customers.
Faced with a mass exodus of iPhone users, Verizon's network could crumble under the pressure, just like AT&T. The Morpace Omnibus study highlights concerns that Verizon's network faces the same difficulties handling bandwidth demands. Also, if Verizon begins to carry the iPhone, it would "drastically impact" the purchase of other phones (read Android phones), the study says.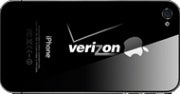 Despite eager Verizon (and AT&T) customers, an iPhone on Verizon is not confirmed. For two years analysts have speculated that Apple would release a CDMA version of the iPhone that would work with Verizon's network. The latest information places the launch of the CDMA iPhone next January, and says a prototype is in testing stages.
The unsubstantiated speculation around a Verizon iPhone hasn't stopped customers hoping for an alternative to AT&T's exclusive iPhone deal. AT&T's network is crumbling under the pressure of heavy iPhone data use, and progress to improve the network is steady, but slow.
The pressure is now on Apple and Verizon to put out a CDMA iPhone. The findings of the Morpace Omnibus survey second the results of another survey from ChangeWave earlier this year, which polled 4,000 US consumers and found that 53 percent of Verizon subscribers were craving for an iPhone on the carrier's network.