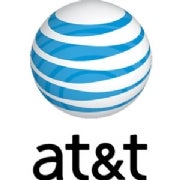 AT&T recently said it supports the Google-Verizon net neutrality plan that would prevent wireless networks from being subject to neutrality regulations.
Ralph de la Vega, CEO of AT&T Mobility, recently called the plan a "reasonable framework." Later, Joan Marsh, AT&T's Vice President of Federal Regulatory, wrote about the proposal and the need for unregulated wireless networks on the company's public policy blog. "Wireless carriers must to [sic] be able to dynamically manage traffic and operate their networks in an environment free from burdensome, arbitrary and unnecessary regulations," Marsh said.
The Google-Verizon plan, which has drawn critics as well, calls for making the Internet we know today completely neutral for lawful content. This means carriers could not discriminate against or restrict different types of (lawful) data from running through its broadband network. However, the plan would leave wireless networks out of the debate, and allow broadband providers to offer non-neutral specialized broadband services such as medical health monitoring and entertainment content.
AT&T has long been an opponent of net neutrality, arguing there is little evidence that broadband providers needs to be regulated. The company has considered using filtering tools to detect pirated material on its network. AT&T has also urged employees to send personal letters to the Federal Communications Commission arguing against net neutrality.
Despite previous actions, it isn't that surprising the company would approve of the Google-Verizon framework. That's because by the end of 2009, AT&T changed its position on net neutrality. In fact, it had adopted at least one view similar to those found in the Google-Verizon proposal.
In a letter to FCC Chairman Julius Genachowski, AT&T said, "preserving the open character of the Internet is critically important." However, unlike Google and Verizon, AT&T wanted the FCC to address complaints of anticompetitive or discriminatory behavior on a case-by-case basis instead of applying a "strict nondiscrimination standard." Broad net neutrality rules, AT&T argued, could "ban voluntary commercial agreements for…certain value-added broadband services." You can read the entire letter here (PDF).
AT&T's reference to "value-added broadband services" is similar to Google and Verizon's call to have a non-neutral broadband network for "additional, differentiated online services." As mentioned earlier, such services could include health care monitoring, educational tools, gaming, and other forms of entertainment content.That means they could charge you more for accessing the net for those functions.
Considering AT&T's previous calls against regulating private broadband services (not to mention it's clear interest in having an unregulated wireless network) it's no surprise that AT&T likes what the Google-Verizon plan offers. But the company hasn't signed on entirely; its support is preliminary, not a Verizon-Google-AT&T net neutrality proposal.
Connect with Ian on Twitter (@ianpaul).