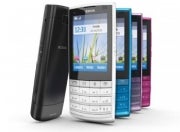 Research In Motion isn't the only company attempting to launch a cell phone that combines a touchscreen with a hardware keypad: Nokia is getting in on the act, too. The Finnish phone maker today announced the Nokia X3 Touch and Type, the first S40 phone to feature a touchscreen and a 12-button keypad. But, given the tepid response to the new BlackBerry Torch, you have to wonder if people are interested in phones with these hybrid designs.
Nokia's X3 Touch and Type may have an advantage over the BlackBerry Torch in that it is not supposed to be a high-end smartphone designed to compete with the iPhones and Droids already on the market. Instead, Nokia's X3 is aimed at consumers shopping for a standard cell phone.
The X3 comes in five colors, and sports a super-slim design, measuring less than 0.4 inches thick. It also offers as a 2.4-inch touchscreen, 3G and WLAN support, FM radio, a music player, and a 5-megapixel camera with 4X digital zoom. The phone runs Nokia's popular S40 software, which isn't a true smartphone OS, but does offer access to Nokia's Ovi Store for downloading apps.
Nokia says that "in certain markets" the X3 will come with Ovi Music Unlimited, the rebranded version of what was once called Nokia's "Comes With Music" service. That service, the launch of which had been delayed in the U.S., offers unlimited music downloads to mobile phone owners for 12 to 18 months.
Nokia says the phone is designed for users who want to keep the benefits of a hardware keypad for "fast, one-handed, one-thumb" texting, but who also want to enjoy the benefits of a touchscreen.
"Innovation is not just a high-end game," Mary McDowell, Nokia's executive vice president of mobile phones, says in a statement announcing the X3's launch. "The Nokia X3 is a great example of bringing new consumer value to lower price points."
But the price of the Nokia X3 may not be that low: Nokia says the phone will sell for 125 Euros (as of this writing, that's the equivalent of about $160) when it is launched in the third quarter of this year. Nokia has not said if the phone will be available in the U.S., but if the X3 does make its way to our shores, that price would be significantly higher than what many average cell phones cost. Nokia's phones, though, are typically sold unlocked, so you pay more for a phone that doesn't require you to commit to a lengthy service contract with a carrier. Should a U.S. carrier offer the X3 Touch and Type, the price would likely go down.
Even if the price were to go down, would people be interested in the Nokia X3's Touch and Type design? I think it would be a hard sell. For one, the touchscreen measures just 2.4-inches diagonally. That's going to feel pretty small when you start tapping on it. And then you have to use the numeric keypad for composing messages — an inelegant solution at best. I think Nokia would be better served by offering a bigger touchscreen (3.5 inches, at least) and ditching the keypad entirely. Or, simply ditch the touchscreen and offer a full keyboard, instead.
As it stands, the X3 Touch and Type looks like a phone that's trying to offer a little bit of everything, and one that will, in the end, please very few.