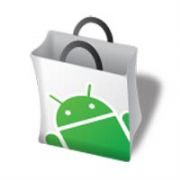 Android smartphone users could be using PayPal to purchase applications for their devices before the end of the year, according to recent reports.
Google and eBay's PayPal are reportedly in talks that would bring the e-mail-based payment system to the Android Market. The deal would also allow Android app developers to receive money from application sales via PayPal, according to Bloomberg.
Currently, Android users must purchase apps from the Market using Google Checkout, the search giant's homegrown payment system. Similar to Apple's iTunes, Checkout stores your address and credit card information, allowing you to purchase items online with just a few clicks.
It's not clear why Google would want to cut a deal with PayPal since the payment system's popularity could threaten Checkout. As with PayPal, vendors can use Checkout as a payment option on their Websites, but Checkout doesn't enjoy the same popularity as its more ubiquitous competitor. The Android Market was thought to be one of Google's largest tools for popularizing Checkout.
However, Google may not care whether users purchase apps on the Market using Checkout or PayPal, since app sales are not a big money-maker for the search giant.
Similar to Apple's deal with iPhone app developers, Google offers its Android partners a 70/30 percent split on app sales with the lion's share going to the developer. Unlike Apple, Google says its 30 percent share doesn't improve the company's profit margins. Instead, Google's Android app revenue goes to paying carrier fees and its own administrative costs.
PayPal, on the other hand, would most definitely be taking a cut from app sales. But it's unclear whether that cut would come from developers or Google. Regardless, a Google Checkout alternative for the Android Market is something developers have wanted for some time.
But don't get your hopes up just yet, Android fans. A Google-PayPal deal is not yet final, sources close to the talks told Bloomberg, and it's still possible that an agreement will never come together.
Connect with Ian on Twitter (@ianpaul).