At a Glance
Expert's Rating
Pros
Built-in 802.11n Wi-Fi
Blu-ray player
Our Verdict
You won't find anything too exciting here, but HP's Pavilion Elite HPE-235f delivers good performance and strong media functionality, at a great price.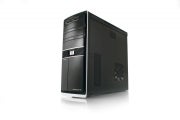 Desktops in the mainstream PC category are usually designed to meet general home and business computing needs. While lacking the raw muscle of systems in the performance PC category, they deliver strong performance without breaking the bank, and typically they try to scratch the high-definition-media itch. Priced at $1019 (as of August 16, 2010), the HP Pavilion Elite HPE-235f packs a six-core AMD processor and delivers capable performance at quite a reasonable cost.
Powered by a 2.6GHz Phenom II X6 1035T processor, 8GB of RAM, and a 1TB hard drive, the HPE-235f earned a WorldBench 6 score of 114–a strong result, but on the lower end of the category. Gaming performance was a bit disappointing, too. The HPE-235f's ATI Radeon HD 5570 graphics board failed to produce playable frame rates at any resolution of our Dirt 2 benchmark. On our Unreal Tournament 3 benchmark, it managed a frame rate of 25.6 frames per second (at 2560 by 1600 resolution and the highest quality). Once we dialed the resolution down to 1920 by 1200, Unreal Tournament 3 ran at a respectable 43.4 fps.
Other machines have fared better. For instance, the Dell Studio XPS 7100, equipped with an ATI Radeon 5870, managed a frame rate of 88 fps and earned a slightly higher WorldBench 6 score of 120. The Dell is also marginally more expensive, though, so keep that in mind when comparing the two.
The HPE-235f is housed in HP's standard chassis–it's quite literally a pared-down twin of the company's Pavilion Elite HPE-390t performance desktop. Though it's a bit boxy and plain, ports and the like are readily accessible. A bucket on the top offers a handy spot to rest your gadgets, but competing systems also tend to include a USB port or two in that location, increasing the utility of the space.
On the front of the case you'll find the Blu-ray player/DVD-writer combo drive, as well as three USB ports (two on the multiformat card reader and one hidden behind a panel with the microphone and headphone jacks, on the lower-left side). Six more USB ports are on the rear (for a total of nine), alongside 7.1-channel and optical-audio outputs, a FireWire port, and a gigabit ethernet port. The PC also offers 802.11n Wi-Fi, if you'd like to trim down the cable clutter. The ATI Radeon HD 5570 graphics card provides a DisplayPort connector, an HDMI port, and a single DVI port.
You'll need to break out your screwdriver if you want to tinker inside the machine. It has some room for adding a few extra components (a second hard drive or another 5.25-inch drive), but you'll need to wrestle the wiring into some semblance of order to get in there. The system also offers a pair of open PCIe x1 slots, but inserting a larger graphics card will be a challenge–the 300W power supply won't leave much room for expansion, either.
The bundled keyboard and mouse aren't especially interesting. Although the keyboard offers a few media-shortcut keys, both input devices are wired, and otherwise generic. Both are comfortable to use, but if you're a stickler for additional functionality from your peripherals, you'll want to invest in a set of your own.
The HPE-235f comes with a few HP-branded bits of software. HP's Total Care Advisor keeps you informed on your PC's inner workings, monitoring driver and software updates, and tackling data backup and tech support. It's merely a front-end for tasks that Windows 7 and your applications will handle natively, but it's a useful tool if you're unfamiliar with some of the more arcane elements of your PC.
HP's MediaSmart software supplies media-playback and photo-browsing applications, much like the software provided on the company's all-in-one machines such as the TouchSmart 600 Quad–sans touch functionality, of course. The HPE-235f also sports CyberLink software for taking advantage of the Blu-ray drive, as well as Microsoft's Works 9 productivity software.
Although the limited room for upgrades is a sore point, it's a common handicap for machines outside of the performance category, from the larger PC manufacturers. As it stands, the HP Pavilion Elite HPE-235f is best suited for a user who isn't likely to do much upgrading or enthusiast-level gaming but wants a machine that can churn through high-definition media without skipping a beat. If you're in the mood for something a little meatier, Dell's Studio XPS 7100 may cost a bit more, but it bridges the gap by packing in better graphics performance and a stronger six-core AMD processor.