You found something cool on the Web–say, a photo or incredibly helpful Hassle-Free PC tip. Now you want to share it with friends, and maybe add a few comments to what you're sharing.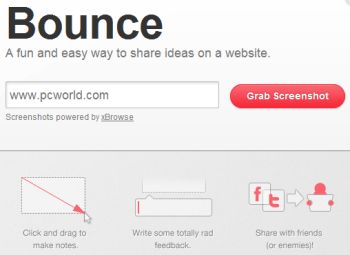 Check out Bounce. This slick little Web app takes a screenshot of any page, lets you add comments to one or more parts of that page, then share it via Facebook, Twitter, or e-mail.
To get started, copy the URL of the page you want to share. Then head to the Bounce site, paste in the URL, and click Grab Screenshot. In a few moments, you'll see the page you captured, but with a simple Bounce toolbar across the top. Now click and drag a box around any area you want to spotlight, then add some comments in the area below it. Repeat this process as needed.
Finally, click the red Save button up in the Bounce toolbar. That'll generate a custom URL you can copy and paste into an e-mail. Alternately, you can click the Facebook or Twitter icons to share this "feedback" (that's what Bounce calls your comments) on either service.
Bounce is totally free, and it doesn't require any kind of registration. Nice!
Copy Kindle Notes and Bookmarks to Your PC
If you're a Kindle owner, you've probably discovered the device's enviable ability to bookmark pages, highlight passages, and add notes (aka annotations).
What you may not know is how to do anything useful with that data. For example, students might want to include annotations in a school paper. And if you're part of a book group, your might want to share those bookmarks and notes in, say, a Word document.
Either way, it's possible–it's just a small matter of copying that stuff to your PC. Here's how.
Connect your Kindle to your PC.
Open My Computer (or just Computer if you're on Vista or Windows 7), then look for Kindle in your list of devices.
Double-click the Kindle icon, then open the Documents folder.
Look for a file called My Clippings.txt. Copy it to your desktop (or folder of choice), then open it in your favorite word processor.
You'll see that the notes are sorted by book and by date–very handy.
Manage, Share, and Discover Books With Shelfari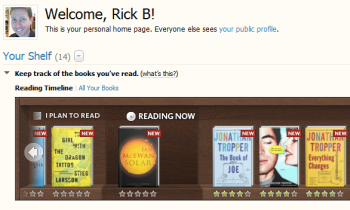 I'm an avid reader. And the older I get, the harder it becomes for me to remember every book I've read. At the same time, I want to get recommendations from sources other than Amazon: friends, people who share my tastes, and so on.
Shelfari is a free service that lets you build a virtual bookshelf of stuff you've read, see what your friends are reading, discover popular titles in specfic genres, and join discussion groups.
After signing up for Shelfari, you can browse or search its library to find books to add to your virtual shelf. For any book you choose, you have the option of rating, tagging, and/or reviewing it. You can also mark it as something you've read, are reading, or are planning to read. All this requires just a few easy clicks.
Shelfari is also heavy on community features, stuff like which books got the highest ratings and most comments for the day, members who added the same books as you, and group categories ranging from Authors & Writing to World Literature & Culture.
Of course, Shelfari is by no means the only bibliophile site of its kind. Another popular destination is Goodreads, though I find that site's interface much less intuitive and attractive.
I do wish Shelfari offered some kind of integration with Facebook and/or Twitter. Even so, it's a great destination for anyone who loves books. If you want to "friend" me on the service, look for user justrick.
If you've got a hassle that needs solving, send it my way. I can't promise a response, but I'll definitely read every e-mail I get–and do my best to address at least some of them in the PCWorld Hassle-Free PC blog. My 411: hasslefree@pcworld.com. You can also sign up to have the Hassle-Free PC newsletter e-mailed to you each week.