At a Glance
Expert's Rating
Pros
Strong general performance
Excellent value
Our Verdict
If you aren't the tinkering type and you aren't interested in enthusiast-level gaming, Gateway's DX4840-15 is a fine choice, at a fine price.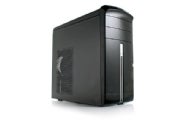 At $850 (as of August 16, 2010), the Gateway DX4840-15 mainstream desktop is all about compromise. You get a potent PC at a palatable price, at the cost of future upgrade potential. That may not matter if your needs are simple. But you're out of luck if you want to breathe new life into your machine later on down the line.
The DX4840-15 is equipped with a 3.2GHz Core i5-650 processor, 8GB of RAM, and a 1TB hard drive. On our WorldBench 6 test suite, it earned a mark of 128–a strong showing that eclipsed the results we saw from some pricier machines. The Dell Studio XPS 7100, for example, achieved a score of 120, but it closes the gap by offering superior graphics performance and a Blu-ray player.
Gaming performance was a bit lackluster. Powered by an nVidia GeForce GT 320 graphics board, the DX4840-15 produced an average of 37.8 frames per second on our Dirt 2 benchmark (at 2560 by 1600 resolution and the highest settings). That's a playable frame rate, but it doesn't leave much room to grow.
You won't find much room for growth inside the DX4840-15's standard Gateway chassis, either. The midsize-tower case is fairly small, which limits your ability to swap in new components–and the untidy wiring job doesn't help. The motherboard offers one free PCIe x1 slot and one free PCIe x8 slot. You have enough space to replace the graphics card with something a bit more substantial; but if you attempt to do so, you'll also need to contend with the 300W power supply.
The chassis provides an open 5.25-inch drive bay and a pair of hard-drive bays for future expansion. The hard drives face outward, which would make accessing them rather simple–were everything not locked down by screws. Tool-free cases, however, are generally reserved for boutique vendors and for models higher up the desktop totem pole (particularly in the performance category), so that isn't too much of a disappointment.
Although the internal expansion options are lacking, Gateway has arranged a fair assortment of connectors around the DX4840-15. The front lip of the case has a pair of USB ports, along with a multiformat card reader, mouse and headphone jacks, and a shortcut button to Gateway's Photo Frame software (more on that in a bit). A bucket is available on the top of the case for resting your gadgets; it offers another pair of USB ports, too. The machine also sports a DVD burner.
On the rear are six more USB ports (for a total of ten). You'll also find PS/2 serial keyboard and mouse connectors, and a gigabit ethernet port; the graphics card, meanwhile, has DVI, HDMI, and VGA connectors. The machine also offers 802.11n Wi-Fi, courtesy of a PCIe card. The antenna's connectors are in an awkward spot: just below the graphics card, impeded by any monitor cables you'll attach. As a result, the antenna needs to poke out to the side of the system, as opposed to pointing straight up. It's just a quirk of the slot placement on the motherboard, though, and it won't affect functionality.
You don't get much in the way of printed documentation; once you've fired the machine up, however, Gateway's InfoCentre offers everything you'd find in a manual. The utility also handles software updates and presents tutorials and quick-start guides for using the PC. If you insert a memory card into the multiformat reader, pressing the Photo Frame button pulls up an image viewer for organizing and browsing your files.
A keyboard and mouse come in the package, but you'll find no surprises–they're both generic, wired models. The keyboard is comfortable enough to use and offers media-shortcut keys, but if you're spending a bit of time working with your desktop, you'll likely want to upgrade to something more substantial.
The Gateway DX4840-15 offers a winning combination of performance and price–but sacrifices flexibility to get there. You'll have enough room to add an extra hard drive or two, and you can replace (or complement) the DVD drive with a Blu-ray player, but the wimpy power supply bottlenecks graphics performance. If you aren't the tinkering type and you aren't interested in high-end gaming, the DX4840-15 is a nice choice, at a good price.