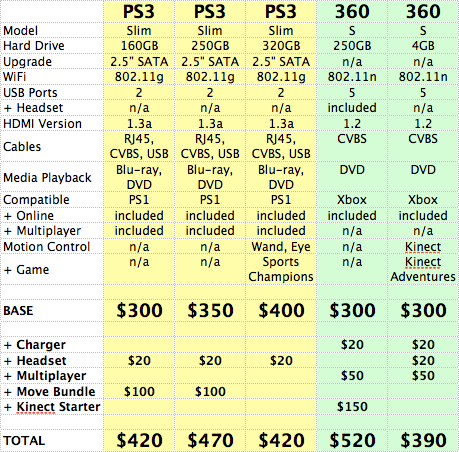 Microsoft played its hand at E3, while Sony laid down a few new cards at yesterday's Gamescom presser, so how do the two systems stack up now that everything's on the table?
Our latest build-it-yourself matrix (see our post-E3 chart here) can't tell you what to buy, since that depends what you're after, but it will give you a sense of what you'll have to pay if you buy all at once, or kit your system in pieces. Remember that this chart doesn't gauge the "soft" value of services like Xbox LIVE or PlayStation Home, or how having a network of friends clustered on a given system could influence your decision.
I've dropped superfluous items from the chart this time. All systems come with wireless controllers, the difference between 1GB and 100Mb Ethernet is irrelevant, and I've dropped breakout component pricing (such as for HDMI cables) where upgrading costs the same across all systems.
Note that prices for systems and components were grabbed from Amazon, accessed August 18, 2010.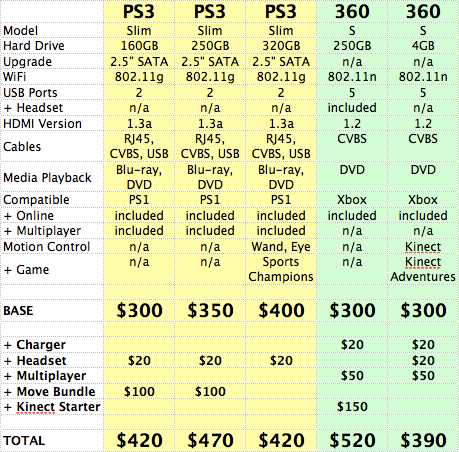 Hard Drive: The PS3 hard drive can be user-swapped for any 2.5-inch SATA drive, while the Xbox 360 remains proprietary, capped at 250GB, and Microsoft-locked. Microsoft's suggested they could offer hard drive upgrades in the future, but I'm calling the system non-upgradeable for now, since that's what it is until Microsoft says otherwise.
Wireless: The differences between 802.11g and 802.11n are negligible. Make of them what you will.
Controller: The PS3 controllers charge internally, while the Xbox 360 comes with a pair of standard AA batteries. Microsoft's "Play & Charge" kit, which includes the charger cable and NiMH battery pack, costs $20.
Video: The PS3's HDMI connection complies with the 1.3a spec, which yields higher data transfer speeds, a new expanded color format called "Deep Color," automatic audio syncing (lip syncing), and Dolby TrueHD and DTS-HD Master Audio support. The Xbox 360 supports the older HDMI spec 1.2. In practice, the only functional difference given current TV and broadcast limitations would be the Dolby/DTS-HD spec, and then only in relation to lossless, uncompressed audio situations, such as Blu-ray video playback. For more on this, see here.
Online: The new Xbox 360 comes with Microsoft's Xbox LIVE Silver membership, which allows you to create a Gamertag and message friends. If you want Netflix, Facebook, Twitter, and online multiplayer support, you'll have to upgrade to Xbox LIVE Gold, which costs $50 a year, e.g. $250 for five years. The PS3 currently offers online services including competitive multiplayer at no additional cost, as well as a "PlayStation Plus" premium service with extra features for $50 a year (Netflix, Facebook, Twitter, and online multiplayer support remain outside the pay wall).
Acronyms: RJ45 signifies Ethernet. CVBS stands for "Composite Video, Blanking, and Sync" (the lowest quality video cable, a step above coaxial RF). I've left YPbPr (shorthand for Component Video) off the chart, presuming buyers will opt for HDMI. A typical 3′ HDMI cable runs between $10 and $15.
Motion Control: The 320GB PS3 can't be purchased without the Move bundle (one wand, the Eye, and Sports Champions), thus its higher base price, though you're saving at least $50 buying this version. The 4GB Xbox 360 S can be purchased without the Kinect starter kit for $200, but you're saving $50 by purchasing the bundle version. If you don't care about the hard drive, the 4GB Xbox 360 S could be the best deal going. If you do care, expect to pay an exorbitant sum–at least $100, probably more–for a modest 250GB hard drive upgrade (if Microsoft releases one).
Note that Microsoft's Kinect supports up to four players out of the box–the equivalent cost on the PS3 could run up to $400 for the controllers alone (four players, two wands each, $50 per wand). And if you want the Move navigation controller, add another $30 per player.
Summary: If your brain wasn't tangled up before, it should be now.
Follow us on Twitter (@game_on)