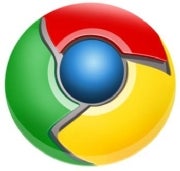 Google's Chrome Web Store is likely to be up and running this October, reports 1Up.com.
The online app store will focus on supplying users with a variety of online/browser-based games, as well as a community (so that users can review, rate, and bookmark games).
The announcement was made on Tuesday by Google game developer advocate Mark DeLoura and Google Chrome developer advocate Michael Mahemoff at the Game Developer Conference in Europe (GDC Europe), which is taking place in Germany. The web store was originally announced at the Google I/O conference in May. Click on the images (from ) for a closer look at the screens shown in the demo.
DeLoura and Mahemoff showed GDC Europe-goers what the web store is expected to look like, including screenshots of individual game pages, which will have ratings, reviews, and friends' ratings. Presenters also stressed the ease of publishing content, and said there is no approval process for content posting.
Perhaps the most notable part of the announcement is how much revenue share Google expects from its publishers–virtually none, that is. Unlike other content publishers, which can keep as much as 70 percent of the profit, Google is asking only a 5 percent processing fee. Google will also allow free games to be published, but won't allow games with in-game purchases (all payment must be required up-front, and transactions will be made using Google Checkout).
A couple of other notable tidbits from the announcement–DeLoura said that the store will be up and running (hopefully) by October. CNET takes this to mean that Chrome OS devices (such as netbooks running Chrome OS) are likely on the same schedule. So far the most Google has said about release of netbooks running Chrome OS is "late fall," and so October 2010 doesn't seem that unreasonable.
TechCrunch took a closer look at the screenshots uploaded to 1Up.com, and suggests the "friend" ratings/reviews are of significance. Namely, because no Google service currently calls social connections "friendships," TechCrunch believes that the new Chrome Web Store is looking to take advantage of the new social network Google is (supposedly) currently working on.
Google has yet to talk about its latest social networking project, but its recent acquisitions of virtual currency-maker Jambool and virtual community entertainment company Slide suggest it has yet to give up on the social networking landscape.