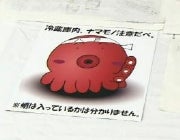 It's always frustrating to find that your computer has been infected with a virus, especially one that can potentially wipe your files. However one hacker decided that he would bring a little humor to viruses by replacing any infected file with a particularly cute sea creature anime.
The Ika-tako virus (which is Japanese for Squid-Octopus) as it has been named first came to shore in May via Japanese file sharing Website Winny. Since then, it has reportedly gone on to infect somewhere between 20,000 and 50,000 computers, according to Asahi.com.
The virus disguises itself in music files, which users then download. Once the file is played, the malware runs through the computer's hard drive, infecting anything from family photos to important OS files. The infected files are swapped with the squid, octopus or sea urchin pictures and removed, then supposedly sent to the hacker's server.
The good news is that the hacker, Masato Nakatsuji, was found and arrested. It's not the first time this guy has been arrested for malware creation either–he was convicted for crafting a similar virus back in 2008, but had used images from the copyrighted anime cartoon Clannad. He reportedly told police this time that he wanted to see "how much my computer programming skills had improved since the last time I was arrested."
This time, he was arrested on the grounds of property destruction, a first for police in Tokyo. At least he handmade the images himself this time I guess.
Unfortunately there is no known fix for the virus just yet, so bad news for those already infected, unless police can get into the server he set up. However, considering he had thousands of people's information stored on the server, it shouts to me that there was a bigger motive behind this virus that just practicing his computer skills.
[Asahi.com via Wired UK / Photo source (Japanese)]
Like this? You may also enjoy…
Follow GeekTech on Twitter or Facebook, or subscribe to our RSS feed.
When you purchase through links in our articles, we may earn a small commission. This doesn't affect our editorial independence.