Perhaps you heard the news yesterday about a fake Facebook "dislike" button that quickly spread virally across the service.
What you may not know is that there really is a legitimate Facebook Dislike Button in the form of an add-on for Firefox. (Thankfully, an Internet Explorer version is imminent as well.)
Developed by FaceMod, the Official Facebook Dislike Button does about what you'd expect: adds a Dislike option right alongside the Like button.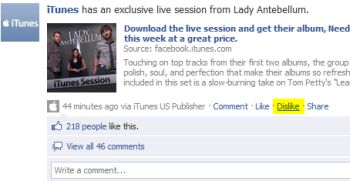 Now, when a friend says they're "having the worst day ever!", you can show your support by "disliking" it (which is obviously preferable to "liking").
Just one little wrinkle: only other Dislike Button users will be able to see your "dislikes." That's one reason it'll be better when IE users can get in on the action. (The developer says support for other browsers, like Chrome and Safari, is coming soon.)
Well, what do you think? Do you "like" the Official Dislike Button, or do you think Facebook should get a clue and build one of their own right into the service?