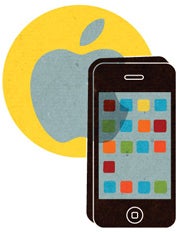 Seeking the best productivity tools, utilities, and games for your iPhone? Here's our selection of the best apps exclusive to Apple handsets. To see multiplatform apps and titles made just for Android or BlackBerry, read the other articles in this package.
Productivity Tools
Sync your calendar: CalenGoo syncs with your Google Calendar and even has a similar look. Other neat features include the ability to invite people to events, plus an integrated task list. $7
Browse in style: Re-creating a desktop browser on the iPhone's screen, Atomic Browser has tabs, ad blocking, multitouch gestures, a passcode lock, Facebook/Twitter integration, and more. Free basic version, $1 premium version
Manage your reading: Through Instapaper you can save Web articles you browsed on your iPhone for later reading, using a browser bookmarklet. The Instapaper Website reformats your saved articles (sans Flash ads and clutter) for quick reading on the desktop. $5
Reference Apps
Get answers: The WolframAlpha app is the ultimate tool for know-it-alls. Ask questions in sentence form ("What is Nancy Pelosi's voting record?"), and the semantic search engine returns the answer. Though it can already answer just about any question you ask, the creators are constantly updating it with new information, making it an ideal companion for pub trivia night. $2
Discover healthful recipes: In the Whole Foods app you can find creative recipes using what you have on hand, and see them in an easy-to-read interface. Free
Cook with a pro: The How to Cook Everything app, based on Mark Bittman's book of the same name, gives you access to 2000 recipes, as well as to no-nonsense cooking advice, how-to illustrations, ingredient information, built-in timers, and organized shopping lists. $5
Utilities and Timesavers
Watch your calories: For keeping track of your caloric intake, Lose It is a handy tool. The app tells you exactly what you're eating during the day, and it gives you a chance to enter your food intake on the go, so that you don't forget to do so later. Free
Add a phone line: Line2 brings a second line to your phone (with a special number). Calls on that line connect as free or cheap VoIP calls over a Wi-Fi or 3G data connection, but they can move to a cell network (which costs you plan minutes) when such connections are unavailable. This service is great if you have weak cell coverage in your home, or if you just want to cut down your cell-minutes usage. $15 per month
Never forget passwords: To maintain your usernames and passwords on your iPhone in one place, try 1Password. The mobile app syncs with the desktop version, as well. If you wish, you can use it to store other personal information, too, such as your Social Security number and credit card numbers. $10 basic version, $15 premium version
Locate Wi-Fi anywhere: A must-have for travelers, Wi-Fi Finder is a directory of paid and free Wi-Fi hotspots in over 280,000 locations in 140 countries. You can filter results by provider or by location (restaurant, café, and so on). Free
Find your way: The TomTom app turns your phone into a GPS navigation device with turn-by-turn directions. Maps and routes are stored in your phone's memory, so updating maps and changing routes happens quickly and without requiring a wireless network connection. $50
Audio and Photo Tools
Revisit the photo booth: One of the first apps to use the iPhone 4's front-facing camera, IncrediBooth gives you an almost genuine photo-booth experience (minus the shopping-mall atmosphere). You get three "retro effects," and you can share a photo strip or just one image with Facebook friends. $1
Make trippy photos: In Diptic you can combine two or three photos to create a cool new image. Juxtaposing a close-up of your cat with a photo of your pals has never been so addicting. $2
Hear new music: In Last.fm you enter the name of an artist you like, and the app recommends other artists based on your preferences. You can listen to as much music as you want, too. Free
Find public radio: With Public Radio Tuner you can hear public radio stations from all over the country. After detecting your location, the app can supply a list of the stations around you. Free
Entertainment Apps and Games
Keep it rolling: In the bizarre but fun I Love Katamari, you're a pint-size alien prince who has been ordered by the King of All Cosmos to collect objects by rolling a highly adhesive Katamari ball. You use the phone's accelerometer to control the Katamari. $5
Slay the undead: The Plants vs. Zombies strategy game has you defending your home from zombie invasion with an arsenal of deadly flora. Cute animation, witty humor, and addictive gameplay make this title one of the best paid games in the App Store. $3
Play word games: In the Scrabble-like Words With Friends you can play against buddies or strangers. The game cleverly uses push notifications to tell you to take your turn, and you can invite pals to play via social networks. Free
When you purchase through links in our articles, we may earn a small commission. This doesn't affect our editorial independence.