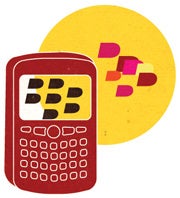 Hunting for the best BlackBerry apps? Try the productivity tools, utilities, and entertainment titles we've collected here. For multiplatform apps, or titles exclusive to Android or iPhone, see the other articles in this package.
Social Networking Apps
Chat with BlackBerry friends: Using the BlackBerry Messenger IM client, you can quickly and easily communicate with other BlackBerry device owners. Using your unique BlackBerry PIN (or bar code), you can add all of your BlackBerry friends and then chat with them or share your files, images, videos, and location. Free
Tweet better: Offering location awareness and embedded images and video, the UberTwitter client has all of the regular features of Twitter but adds advanced features such as URL/tweet shrinking and group list support. Free
Bubble up: CrunchSMS is a chat-style bubble-SMS application with loads of customization options. Among other things, you can add pictures to your favorite contacts, customize the colors, and add smileys and a signature. Free
News, Financial, and Reference Apps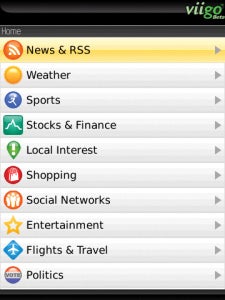 Get informed fast: The versatile Viigo delivers news and information to your BlackBerry. Modules include sports, business and finance, entertainment, and local and national weather. Free
Monitor spending: You can constantly keep track of your checking, savings, and credit card transactions and balances on your handset with the help of Mobile Checkbook. This tool also lets you record transactions as they happen, reconcile balances, and schedule recurring transactions on the go. $10
Know the weather: Through BerryWeather you can obtain instant access to current weather conditions, advisories and alerts, and detailed seven-day and 24-hour forecasts for over 72,000 locations worldwide. $10
Audio and Video Tools
Organize podcasts: Automatically download podcasts for when you have time to listen, using PodTrapper Podcast Manager. The app, which includes its own podcast browser, permits you to create playlists, keep track of the last played episode, and save your place within an episode. $10
Tune in: The no-cost version of Nobex Radio Companion allows you to listen to radio stations within the United States. With the premium subscription version of the app, you can listen to over 5800 radio stations in 80 different countries, with no ad interruptions. Free basic version, $4 premium version
Watch mobile TV: A new video service from Fox, Bitbop streams premium TV content to your BlackBerry device. You can also download shows for viewing when a wireless connection isn't available. $10 per month
Utilities
Get there quickly: QuickLaunch en­­ables you to set up an unlimited number of shortcuts that bring you to any Website, function, file, or app on your phone with just one click. $5
Connect via BlackBerry: The Tether app allows your PC or Mac laptop to connect to the Internet via your BlackBerry's 3G service. $50
Get longer-lasting alerts: Extend your default BlackBerry alert system via BerryBuzz. You can customize the LED color alerts and vibration, keeping the LED flashing beyond the default 15 minutes and setting the phone to repeat alerts until acknowledged. $6 per month
Note: When you purchase something after clicking links in our articles, we may earn a small commission. Read our affiliate link policy for more details.