Isn't it ironic? The director of Apple's app store (and the enforcer of such draconian policies as the "no-porn policy") has a side job: he sells fart apps on the app store.
Wired's Gadget Blog revealed on Wednesday that Phillip Shoemaker, director of Apple's app store, also works for an app company called Gray Noodle. Gray Noodle produces such highbrow apps as "iWiz," a urination simulator, and "Animal Farts," a, um, farting app.
This is, of course, only ironic because Shoemaker is one of the major power players when it comes to the app store's controversial and seemingly spontaneous policies regarding app store content. Perhaps the most recent app store rejection controversy was in February, when Apple decided to purge its app store of what it deemed to be pornographic material (e.g. anything containing the word "boob").
The app store is also known for rejecting apps that pose a threat to its monopoly ahem, company service, such as the Google Voice App and any app that mentions the word "android." Also, Apple has not been entirely consistent in its bans.
Tech blog Valleywag discovered Shoemaker's (now deleted) Twitter account, which showed that the app store director isn't nearly as anti-porn as the app store policies are. The Twitter account revealed Shoemaker as a follower of numerous porn stars and escorts.
You may be wondering why this is news. Well, first of all, there's the irony that the app store director is the supplier of some not so safe-for-work apps. And, secondly, there's the little fact of, oh, right: Apple employees aren't allowed to have apps on the app store unless they're developed and published prior to [the employee's] start at Apple.
Three of Gray Noodle's apps–"101 Cocktails," "Medical Poetry," and "iWiz"–were published after March 9, 2009, which is when Shoemaker started working at Apple (according to his Twitter account, which may or may not be accurate).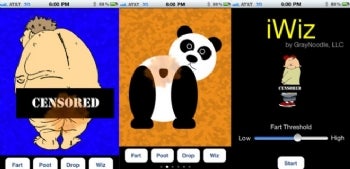 While Shoemaker has yet to respond to a request for comment, an Apple spokeswoman did speak to Wired about the situation. According to the spokeswoman, Shoemaker was hired partly because of his background as a developer, and his apps were "written, submitted, and approved before he became an Apple employee."
Of course, she then went on to say that "Apple's policy allows for employees to have apps on the App Store if they're developed and published prior to their start at Apple." And, of course, as we know, Shoemaker's apps were not published until after his start at Apple (though they may have been developed).
If all this sounds a bit fishy to you, you're not alone–Shoemaker, upon getting word of Wired's story, purged his Twitter account and LinkedIn page to remove mentions of his side company. An archived version of the webpages is available for download at Wired.