The battle for tech-savvy bookworms is on, with Amazon, Barnes & Noble, and Sony competing to sell e-book reader hardware. And as the major players struggle for better position in the electronic-publishing industry, recent months have seen price drops, new devices, and defeats.
Competition stepped up in June when a price war broke out. First Barnes & Noble slashed the price of its Nook by $60, down to $199; the company also started selling a Wi-Fi-only Nook for $149. Within hours Amazon dropped the price of its Kindle by $70, to $189. And ten days later, Sony cut the price of each of its three Reader products by $30, bringing its most expensive 3G version down to $249.
What's sparking e-reader price drops? Thank Apple's iPad, the dominant multipurpose tablet available today–and the juggernaut that has the major single-purpose e-reader makers quaking. In the face of this competition, other e-reader manufacturers have thrown in the towel. Plastic Logic has dumped plans to launch its QUE e-reader, and says that it will instead focus on creating a next-generation ProReader. Samsung delayed its e-readers indefinitely.
The e-reader is at a crossroads. Amazon and other companies must make the case that their dedicated products have a place in a world filled with multipurpose devices that can display e-books, such as smartphones, tablets, and netbooks. Each e-reader maker also wants to ensure that its product becomes the de facto standard for reading e-books. After all, repeat sales of e-books look to be where the real money is. Selling e-reader hardware with hooks to e-bookstores is more critical now than ever.
Market research firm The Yankee Group forecasts that 6 million e-readers will ship in 2010; that number is expected to grow to 19.2 million by 2013. And experts say e-book sales will follow the same growth curve.
E-books represent a fraction of overall publishing sales, but it's a growing share: The Association of American Publishers says that though e-book sales for the month of May totaled just $29.3 million, sales grew by 163 percent that month and have already increased by 207 percent in 2010 compared with 2009.
Amazon has said that 80 percent of its Kindle-book buyers own a physical Kindle; the other 20 percent are using one of Amazon's apps for Android, BlackBerry, iPad, iPhone, Mac, or PC.
Single-Purpose vs. Multipurpose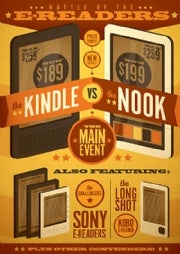 The number one threat to e-readers is Apple's wildly popular, $499 iPad. And as Android tablets surface, you can expect even more pressure on dedicated e-readers, which usually have a monochrome E Ink screen in lieu of tablets' color LCDs.
Amazon has fired back, beefing up its software to include simple word games, and even providing an API for developers to create Kindle apps. In late July Amazon revealed its third-generation e-reader, still simply named Kindle, which has an enhanced display, faster navigation, and an entirely redesigned chassis. Though the 3G/Wi-Fi device costs $189, the Wi-Fi-only version is priced at an affordable $139.
Despite feature and application creep, Amazon and Barnes & Noble's main arguments are sound ones to serious book lovers. First, black-and-white e-reader hardware provides a better environment for book reading than do color-LCD-based tablets. Second, whereas Apple's iPad gets 10 hours of battery life, Amazon's new Kindle is rated for up to three weeks of life with the 3G radio on. And the E Ink displays of e-readers are viewable in bright sunlight, unlike the iPad's LCD.
Though Amazon has never shared hardware sales numbers, the company said this summer that its e-book sales have outpaced hardcover sales by 80 percent. It has also claimed that it owns 70 to 80 percent of the e-book sales market (an estimate that other market data supports; for example, author James Patterson sold 1.14 million e-books, of which 867,881 were Kindle books).
Barnes & Noble claims to be at 20 percent, and Apple says it has 22 percent of the e-book market. Though those numbers don't add up, they do show that–for all of the players–the focus is less on hardware and more on the opportunity for ongoing e-book sales.
War Far From Over
Amazon may have solidified its leadership role among dedicated E Ink devices (the newest Kindle sold out within a week of its preorder offering), but the company still faces challenges from Barnes & Noble, Sony, and tablets such as Apple's iPad and current and future Android tablets by Archos, Dell, Samsung, Velocity Micro, Verizon, and others.
What is clear at this point is that Amazon's new Kindle will put pressure on the bevy of lesser-known e-reader brands (nearly a dozen, led by Aluratek, Bookeen, and Kobo) to respond with price drops. But none of these companies have done so yet–and given how tight their profit margins seem to be, smaller e-reader makers may not be able to match the aggressive pricing of Amazon and Barnes & Noble.
More competitors have promised e-readers of their own. Later this year Sharp will introduce an e-book reader device that can read a new, proprietary e-publishing file format. Sharp says the device will be available in Japan first; sometime afterward, Sharp and its partner Verizon Wireless will launch the e-book reader in the United States.
The debut of the $139 Wi-Fi Kindle raises one key question: Does the value proposition of lesser-known, budget e-readers still exist? The short answer is no. Smaller brands have little to offer: Their hardware (as is the case with the $139 Kobo) is often inelegant and harder to use, they lack Wi-Fi or 3G connectivity, and they make acquiring books more difficult than it is on the Amazon, Barnes & Noble, and Sony devices, each of which has built-in bookstore access.
The third-gen Kindle reshapes the e-reader landscape. Considering its features, one potential e-reader vendor's spokesperson said off the record: "At that price, who can compete?"
Kindle (Wi-Fi, 3rd Generation)