At a Glance
Expert's Rating
Pros
Removable SD card storage
Good video and photo quality
3X optical zoom lens
Cons
Poor video performance in dim light
Our Verdict
The awkward-looking Sanyo Xacti VPC-PD2 offers good video and photo quality to go along with its 3X-optical-zoom lens and stereo microphones.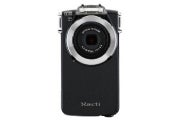 We've been waiting for a high-def pocket camcorder with an optical zoom lens, and Sanyo finally delivered the goods today with the Sanyo Xacti VPC-PD2. The pocketable VPC-PD2 offers a 3X optical zoom lens that ranges from a 38mm wide angle to a 114mm telephoto, along with stereo microphones on the sides of the camera.
The VPC-PD2 is Sanyo's first pocket camcorder, but the company has been making ultracompact high-definition camcorders for quite some time.
Sanyo Xacti VPC-PD2: Specs and Features
The camcorder records 1080p high-definition MPEG-4 video at 30 frames per second at its highest-resolution setting (the camera also records 720p video at either 60 or 30 frames per second, and standard-definition 640-by-480 video). In still-capture mode, it snaps 10-megapixel photos and has a built-in flash that you can use for still photos only. Accessible via the in-camera menus, the VPC-PD2's burst-shooting mode snaps 2-megapixel images continuously as you press the shutter button.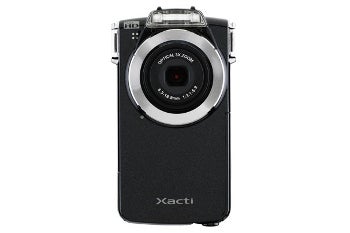 A slide-out USB connector takes care of offloading clips and charging the battery, and video clips and images are stored to a user-supplied SD, SDHC, or SDXC card. To help with awkward USB port configurations on computers, the VPC-PD2 comes with an extension cable for the camcorder's built-in USB connector.
The VPC-PD2 has an HDMI-out port, and it's compatible with Eye-Fi cards, so you can upload files directly from the camera over a Wi-Fi connection.
Priced at $170, the VPC-PD2 is due to be available on September 1.
Hands-On With the Sanyo Xacti VPC-PD2
During some hands-on time with the camcorder, I definitely enjoyed having that optical zoom lens while shooting. Images and video taken at full telephoto were generally sharper than the normal maximum digital-zoom shots captured with other pocket camcorders. That said, the zoom-lens motors did make a bit of noise and weren't pressure-sensitive: the camera zooms in and out quickly, making it impossible to slowly push in or out on a subject.
The camcorder's controls are intuitive after a few minutes of use. By pressing the left or right directional buttons on the camera's four-way directional pad, you can adjust the resolution for video and still capture and the camera's flash settings; meanwhile, the up and down buttons control the optical zoom. The device is extremely light, too, even when loaded with an SDHC card and its removable rechargeable battery.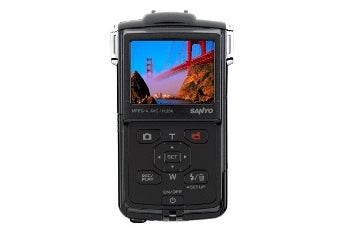 When I used it to snap still images, the dedicated shutter button required me to hold it down for about a second, which was a bit annoying. On the other hand, when the camera finally did snap a shot, the image looked crisp and well-exposed, considering the size of the camera. The VPC-PD2's autofocus feature worked well, though I was able to test the camera's still-image capture only in a bright-light setting.
All in all, the Sanyo Xacti VPC-PD2 is a full-featured competitor in the realm of HD pocket camcorders, and it's the only one to offer that sharp optical zoom lens. Stay tuned for a full review of this pocket camcorder in the coming weeks.
Note: When you purchase something after clicking links in our articles, we may earn a small commission. Read our affiliate link policy for more details.