I just installed Windows 7 on a Compaq laptop that was previously running Vista. It was a clean install, meaning I wiped the hard drive rather than simply upgrading the OS. (I had my reasons for doing so, but I won't bore you with them here.)
The install went perfectly, with one exception: the display wasn't running at its maximum, native resolution (which on this system is 1,200 by 800). Instead, it was stuck at a rather chunky 800 by 600, and when I went to increase it (by right-clicking the desktop and choosing Screen resolution), the only option was 1,024 by 768–still shy of optimal.
What happened? Simple: Windows 7 had failed to detect and download drivers for the laptop's ATI Radeon video hardware. Thus, I had to grab them manually, which was surprisingly easy: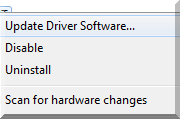 1. Click Start, type device manager, then press Enter.
2. Expand the tree for Display adapters. You should see an entry that says "Standard VGA" or something similar.
3. Right-click that entry, then click Update Driver Software.
4. Click Search automatically for updated driver software. Windows should be able to locate, download, and install the proper drivers for your video hardware, as it did on my Compaq.
When it's all done, you'll need to reboot. When Windows starts up again, your display should be running at its optimal resolution. If not, right-click somewhere on the desktop, choose Screen resolution, and choose your desired setting. Easy-peasy!