Genieo (free) automatically pulls in stories and feeds from sites you visit to create a custom home page. While largely effortless, you'll likely find it less customizable than similar online offerings.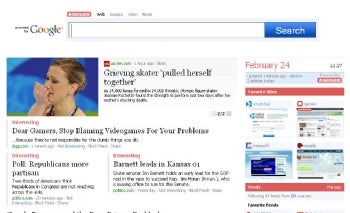 According to the app's privacy policy, the information it gathers about sites you visit stays on your PC. None of your browsing history is shared with Genieo's makers. After installing the program, you'll see a message that it's building your page and will take about 20 minutes.
When it's done, you can view a simple page with stories pulled from sites in your bookmarks and browsing history, along with feeds that Genieo pulls in itself (such as cnn.com and nytimes.com) and snapshots of your favorite sites. The page is topped by an oversized Google search bar, and as you surf, the displayed stories and feeds update based on where you've been. If you happen to surf to a site that the app doesn't think would make for good home-page content, it will purposely exclude that content from your Genieo page.
You'll also see a list of RSS feeds on the right side of the page. Clicking one displays the feed's list of posts. You can block a given feed, or label a particular post as "Not interesting" to remove it from the list.
Genieo differs from custom online home pages such as iGoogle in that it automatically builds your page without any required input from you. However, while you can customize what it shows to some extent, you won't get nearly the same options to pick and choose your displayed content as you would from other services. Also, because the app stores everything on your PC, you won't be able to view your custom page from another computer.
Genieo would likely be best for someone who wants a custom page with a minimum of effort. But if you're willing to do a little more up-front work in selecting your content, you might be better off with an online page like the aforementioned iGoogle, a Yahoo page, or Netvibes.com.