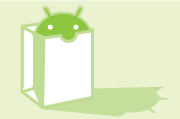 Your Android phone is only as useful as the apps you put on it. Whether you're looking to play games, manage media, or find new ways to organize your life, apps are the tools that can make it happen.
Compared with other smartphone platforms, downloading and managing applications is a bit different for Android. Here's everything you need to know to get the most out of mobile apps for your phone.
The Android Market
Android's official app store is called the Android Market. Though the open nature of the Android platform allows you to download and install apps from any location, the Android Market is the largest and most diverse collection of apps available for your device–plus, it offers a safe and secure paying experience through Google's Checkout system–so that's where we'll focus our attention for this tutorial.
To access the Market on your phone, simply tap the Market shortcut on your home screen. Upon loading the Market, you'll see a page showcasing featured applications. At the top of the screen, you'll find a tab labeled Apps, one labeled Games, and possibly another option specific to your mobile carrier.
Tapping the Apps tab will bring up a menu of available categories that you can browse. When you enter any category, you'll see a list of the most popular programs within that particular section, separated by whether they're free or paid. You can also tap the search icon–the small magnifying glass at the top-right of the screen–to look for any specific application by name or keyword.
To learn more about or to download any particular app, tap your finger on it. This will load a description and some screenshots provided by the developer, along with ratings and comments provided by other users.
Some Websites may also provide you with direct URLs you can click or barcodes you can scan to jump directly to an application's page in the Android Market.
Downloading an App
When you decide you want an app, touch the Install button at the bottom of its page in the Market. The system will notify you of what functions the program will be able to access on your phone; as you'll quickly learn, this is standard and typically no cause for alarm. The vast majority of apps in the Market are safe. Just be sure you've looked over an app's ratings and comments to get an idea of its reputation, then use your best judgment.
With free apps, the download will begin as soon as you tap OK. With paid apps, you'll first be taken to a Google Checkout screen where you'll enter your credit card information. You'll need to input your payment details only once; they'll be securely stored for future transactions.
A message will pop up in your notification panel once an app has finished downloading and is installed. The app will then automatically appear as an icon in your phone's app launcher.
App Updates
Many apps receive regular updates from their developers. The Android Market will notify you of any updates available for your programs by placing a Market icon with an "Updates available" message in your notification panel. Follow the prompts to download and install the update. Even if you originally paid for the application, you won't be charged again.
You can manually check for updates by pressing the Menu key while in the Android Market, then selecting Downloads. Any app with an available update will appear at the top of the list with a brightly colored label.
Uninstalling Apps
If you want to uninstall an app, just head back to the Android Market and access the Downloads menu mentioned above. Touch any app in the list, and you'll be presented with an option to uninstall it. The Android Market will refund your money on any paid app you uninstall within 24 hours, provided you haven't previously installed and uninstalled the same application.
Your Android phone has its own built-in app manager, too: Tap the Menu key from your home screen, then select Settings, Applications, and Manage applications. There, you'll find a list of all the programs installed on your phone. Tapping on any app will allow you to see detailed information about its system resource usage and will also give you the option to uninstall.
For comprehensive tips about Android and reviews of the best apps and devices to help you get the most out of the mobile operating system, order PCWorld's Android Superguide, on CD-ROM or in a convenient, downloadable PDF file.