Cedric Crawley wants to keep Windows 7 and his applications in one partition, and his data in another.
Creating a separate data partition protects both your system and your data. See Reasons to Partition for an explanation.
Last year I told readers how to move data to a separate partition in Windows XP and Vista. Now it's Windows 7's turn.
Before you do anything else, make an image backup of your hard drive as protection should disaster strike. You can use Windows 7's own Backup and Restore program (which calls it a system image) or any other image backup program. I recommend Macrium Reflex Free.
Once protected, shrink your current C: partition, and create a new, logical partition out of the newly-empty space. You can use Windows 7's Disk Management program for this. See How to Partition Your PC's Hard Drive for instructions. Or you can use one of any number of third-party partition programs. My current favorite is EASEUS Partition Master. The free Home Edition will work fine for 32-bit Windows 7; 64x Windows requires the $40 Edition.
Once you've got the two partitions set up, create a restore point–just to be safe. Click Start, right-click Computer and select Properties. Click the System protection link, then the Create button. Follow the prompts.
For convenience sake, I'm going to refer to the new partition, which is probably D: or E:, as X:. I'll also refer to your logon name–the name you use to log onto Windows, as logon, although the name is probably something like Cedric.
Navigate Windows Explorer to the data partition you just created (the one I'm calling X:) and create a new folder named with your logon name. Then click Start and click your logon name at the top of the Start menu. This opens your old C:Userslogon folder in a new Windows Explorer window.
In that window, right-click My Documents and select Properties. Click the Location tab. Your current path (C:UserslogonDocuments) will appear in an editable field. Select the first part of that path: C:Users…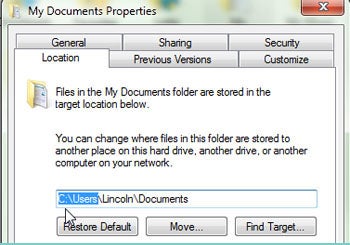 Now type X : in its place, so that it now reads:

(By now you know what I mean by X: and logon, right?) Click OK and answer affirmatively to all of Windows' questions.
Don't be freaked out if the dialog box stays on screen. It will go away soon enough.
When it does, you'll still see a My Documents folder. Have no fear. That's just a pointer. The files are actually now on X:.
Repeat this process for every visible folder in the C:Userslogon window except AppData.
If you don't see a folder called AppData, select Organize, then Folder and search options. Click the View tab, select Show hidden files and folders, and click OK. You'll now see AppData. You can hide it again when you're done.
AppData is a lot trickier than your other data folders. Windows doesn't want you to move it, and it contains files that you really shouldn't move. But it contains other files that should be on the data partition.
Open AppData, right-click the Roaming folder and select Properties. Click the Location tab and do as explained earlier. Then reboot.
You might be done at this point, but some programs keep important data in sections of AppData other than Roaming. Two such programs are Outlook and Windows Live Mail. If you use either of these programs, follow these directions:
Outlook: With Outlook closed, navigate Windows Explorer to and select C:UserslogonAppDataLocalMicrosoft. Inside this folder you'll find a subfolder named 'Outlook'. Move it to X:logonApplication Data.
Then Select Start, type mail, and select the option Mail in the Control Panel section. Click the Data Files button. On the Data Files tab, double-click the Personal Folders listing (it's probably the only one). Click OK at the error message. Browse the resulting dialog box to X:logonApplication DataOutlook, double-click the displayed file, and close the various dialog boxes.
Windows Live Mail: Open Windows Live Mail and click the Menus icon (near the upper right corner to the left of the question mark). Select Options, and click the Advanced tab, the Maintenance button, and then the Store Folder button. Click Change, and pick a new location (one on drive X:). When you close Windows Mail, the program will copy the files to their new home.
Add your comments to this article below. If you have other tech questions, email them to me at answer@pcworld.com, or post them to a community of helpful folks on the PCW Answer Line forum.