Jim Dillon heard conflicting views on whether Revo Uninstaller works with x64 versions of Windows.
It's confusing. According to the VS Revo Group website, the free version of Revo Uninstaller supports "32 bit operating systems only." Yet you can run the program in an x64 Windows environment just fine.
But if you look closely, you might find a problem.
Although Revo works in x64 versions of Windows, it won't remove 64-bit programs. In fact, it won't even list your 64-bit programs–if you happen to have any to list.
Note the graphic below, taken in a Windows 7 x64 environment with the x64 version of iTunes installed. The top image shows Windows' own Program Uninstaller (which supports x64 but isn't very smart), and there's iTunes. Below is Revo Uninstaller. No iTunes. (The 32-bit version of iTunes would show up.)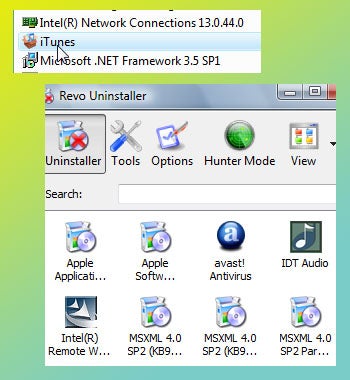 Since most of the programs you run in x64 Windows are still 32-bit, this is seldom an issue. But if you install and decide you don't like a 64-bit program, Revo won't help you. Over time, this could become a serious issue.
So what are your options if you want smart uninstalls in an x64 environment. I know at least two, neither of which are free. There's Revo Uninstaller Professional, and there's Total Uninstall. Both are good, but I prefer Total Uninstall, in large part because of its superior handling of uninstalls that require a reboot.
Add your comments to this article below. If you have other tech questions, email them to me at answer@pcworld.com, or post them to a community of helpful folks on the PCW Answer Line forum.