Steam is the extremely popular digital content delivery system developed by Valve Corporation. Self-described as the "Nexus of PC Gaming," it has over 25 million users and is home to over 1000 games from both independent developers and big name publishers alike. Currently, Steam is only available for Windows, leaving Mac gamers to seek more conventional means to buy their games, or at least giving a great reason to install Boot Camp.
However, just a few days ago, a user of the Steam forums gave Mac users a reason to believe this may change in the future. With the release of a recent preview version of Steam, Valve added some resources and API changes that point to possible OS X support. For starters, an OS X dock icon as well window control buttons (the typical stoplight close, minimize, maximize buttons) were spotted in the resources. This could have been brushed off as a possible OS X-like theme, if not for the fact that there were also OS X menu layout functions found. More evidence lies in a new alert found in the API for trying to download content "not available on your current platform" which wouldn't have made sense before.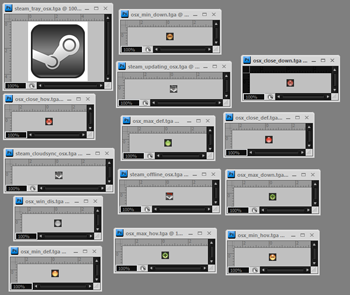 With this all we can conclude is that Valve is at least experimenting with the idea of porting Steam to OS X. Even if it does come to pass, what this doesn't mean is that all games available on Steam would be magically available for OS X. Unless games are explicitly ported to OS X or at least developed with cross-platform in mind, the majority of games available on Steam are sadly still developed with Microsoft's proprietary DirectX graphics libraries and remain Windows-only. However, if such a prevalent content delivery system such as Steam does see the light of day on the Mac, it would certainly encourage more developers to consider making their games cross-platform.