At a Glance
Expert's Rating
Pros
Fulfils a checklist of the most important features
Good all-around performance
Cons
Trackpad and mouse buttons are poorly designed
Battery life is little more than three hours
Our Verdict
Mid-range buyers will be satisfied, but mediocre audio and video performance never aspire beyond that crowd.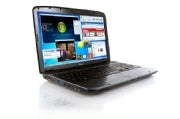 The Acer Aspire 5740-6378 parks itself next to most midrange laptops. It feels fast enough for all common productivity applications; carries a big, 15.6-inch screen; and has nearly all the inputs and outputs you could want. But it never reaches beyond that middle ground. Its big screen makes it a good portable movie player, but without a dedicated graphics processor or 1080p resolution, it balks at gaming and high-end media. If you can get by with only adequate video performance–and matching audio, trackpad, and battery performance for that matter–the Aspire achieves its midrange aspirations: It's not too slow and not too fast. Many will want more, but for some, it will be just right. And at a price around $800, it won't break the bank.
This laptop's case design manages to include a full keyboard–including a number pad–and a 1366-by-768-pixel, 15.6-inch screen without feeling bloated. At 5.8 pounds, it's as comfortable on a lap as on a desk. We're used to bigger-screen laptops elbowing into everything nearby, but this system was surprisingly svelte.
The Aspire's basic performance earned it solid scores for its price level. It earned an overall score of 101 in our WorldBench 6 test suite, putting it on an even footing with many costlier systems. The 2.27GHz Core i5-430m processor and 4GB of RAM provide that speed. A 64-bit version of Windows 7 Home Premium comes preinstalled. In real-world use, we easily rifled through dozens of Firefox windows, worked with Office and other productivity applications, and otherwise used the system for typical multitasking.
Gamers, however, should consider another system. At low resolutions (and expectations), we wrung out just enough speed to play Left 4 Dead 2, but nearly every other recent game was too demanding; as noted, this Aspire lacks a dedicated graphics processor. At least you can fill dull moments in the college dorm or between business meetings with casual, untaxing games.
The keyboard felt tight and responsive, but the trackpad is one of the laptop's biggest flaws. We could never get comfortable mousing around, with fingers regularly drifting off the pad, since we couldn't feel a distinct border at its edge. We also slipped past the scrolling strip, but the raised, plastic divider helped keep us oriented.
The mouse button is also weak, with a single plastic rectangle mounted on a seesaw left- and right-click switch; it takes much more pressure to click near the middle than at the edges. And you can't click on the center inch at all. We'd prefer two different buttons or a mechanism without that flaw.
Instead of including a bunch of dedicated media buttons–which are ugly and underused, anyway–Acer lets an F-key modifier pause and otherwise control media applications. The Aspire has one dedicated launch button that you can configure to open an application. An instant-backup button automatically runs the included backup utility, but you'll probably want to have that on an automatic schedule. A few other thoughtful buttons, including volume controls, complete the extra keys.
Audio and video quality matches this Apire's price level. We could clearly read text and watch bold-looking movies through the slightly glossy screen. The speakers retain about the same quality at all volumes, lacking distortion when you crank them up. But the audio is midtone-heavy; we could hear only a little bass and treble. The laptop plays only a narrow range of sound.
The Aspire also includes nearly every port you could want. Peripherals are covered with four USB 2.0 ports and Bluetooth 2.0+EDR. It includes microphone and line-in audio inputs plus a combination headphone/SPDIF audio output. Networking is handled through gigabit ethernet, 802.11n Wi-Fi, and a modem (if you find yourself lost in 1996). You can connect to an external display–or aTV–through VGA or HDMI. A DVD burner masters discs anywhere. There's even a memory card slot that'll take the various flavors of SD, Memory Stick, and xD. But you might feel slighted when connecting an external disk; there's no eSATA.
A 2-megapixel Webcam captures clear stills and videos when there's enough light. A built-in microphone fills in the audio. But we mostly ignored the few software extras, including a media player; there's nothing valuable enough to sway your laptop purchase in either direction. The battery life was somewhat short of our demands: We benchmarked it at 3 hours, 18 minutes. After coasting through a movie on a cross-country flight, you'll have little time left to take care of any work.
All together, the Acer Aspire 5740-6378 turns in sufficient scores and performance for a midrange audience. It easily multitasks across general Office, e-mail, and Web applications. And it matches the lightweight needs of its target audience. But it never pleasantly surprises or supplies compelling extras. Its video, audio, and battery performance are only adequate for a forgiving audience. Budget shoppers might get just what they need, but we think this laptop aims for a narrow market. At least it hits its target.