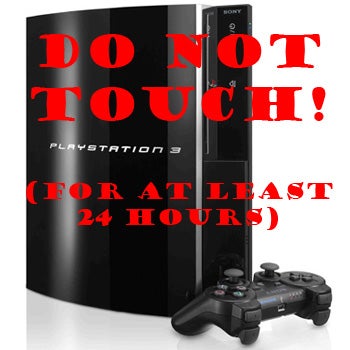 It's probably just a 24 hour bug, but you'll want to leave your glitchy PS3s off in the meantime, just in case, says Sony.
In an update posted to the company's international Twitter feeds and official PlayStation blogs at roughly 9:15am PT, Sony wrote that it hopes to resolve an issue preventing gamers from playing games or connecting to its PlayStation Network, but advises that "you do not use your PS3 system, as doing so may result in errors in some functionality."
Those "functionality errors" could include properly recording trophies obtained by completing specific goals in games, as well as "not being able to restore certain data," though it's unclear what Sony means by the latter.
The issue, which manifested as clocks turned from February 28 to March 1, affects older "fat" PS3s only ("slims" are unaffected) and manifests as a time reset to 12/31/99 when you power the system on. Attempting to play certain games offline brings up an error message, as does signing into Sony's PlayStation Network.
Some users have also reported that they can't access streaming videos, such as those downloaded from online video rental service Netflix.
For a more detailed look at the issue, see our info-roundup: Global PlayStation 3 Glitch: What We Know So Far.
Follow us on Twitter (@game_on)