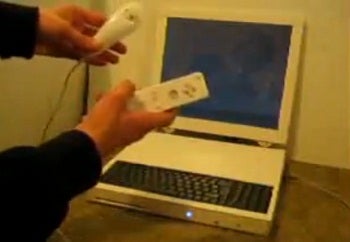 Have you ever wanted to play a quick round of Wii Sports while out and about? A recent case-moddder has taken Nintendo's popular Wii console and built it into a laptop-style case, making on-the-go Wii gaming possible.
This particular case mod requires plenty of patience. This expandable PVC-encased Wii "laptop" took its builder more than three months of spare time and around £400 ($600) to build.
This mod takes a regular Wii console, pairs it with a 17-inch LCD monitor, additional fans, and a full QWERTY keyboard for use when surfing online. Check out the end result in action below:
This isn't the first time someone tried to make the Wii more portable; in 2007 Ben Heckendorn's made a slightly different Wii laptop. For more on this latest effort, though, be sure to check out the Benheck.com forum.
[Via SlipperyBrick]
Follow GeekTech and Chris Brandrick on Twitter.