Toto, I have a feeling we're not in Topeka anymore.

In what may be one of the silliest moves ever made by an elected official, the mayor of Kansas's capital has unofficially changed his city's name to Google. Yes, you read correctly: Topeka is now Google, Kansas.
In the words of Dorothy Gale, oh my.
Topeka and the Google, Kansas Proclamation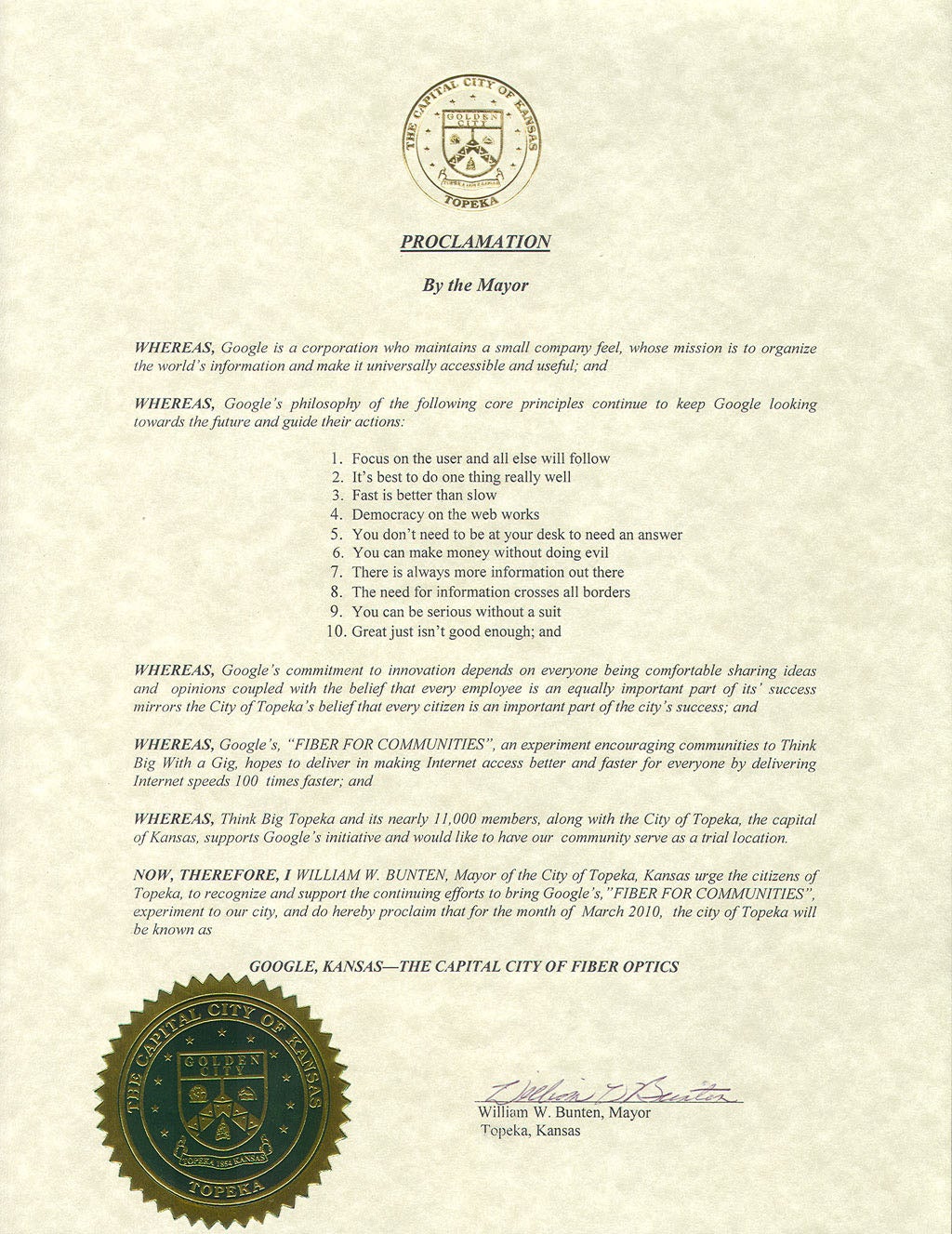 The decision to change Topeka's name to Google was made via a proclamation signed at a city council meeting on Monday. In the proclamation, Mayor Bill Bunten declares that the city will be known as Google for the entire month of March. (You can view the original city document here.)
Now, lest you think the guy's gone totally cuckoo, there is an actual point to this: Google, you may recall, recently announced plans to build a series of superfast broadband networks in cities across America. Google's broadband service will bring speeds up to a hundred times faster than what most people currently have — but not everyone's going to get it.
Google's planning to build its broadband networks in a limited number of communities. It's calling upon city leaders and others to nominate their hometowns for inclusion. After all the nominations have been received, Google will select a handful of places best suited for its experiment.
Topeka's mayor really, really wants his city to be one of those places.
In his proclamation, Mayor Bunten calls the city of Topeka — er, sorry, the city of Google — the "capital city of fiber optics." From the document:
"I, William W. Bunten, mayor of the city of Topeka, Kansas, urge the citizens of Topeka to recognize and support the continuing efforts to bring Google's 'Fiber for Communities' experiment to our city, and do hereby proclaim that for the month of March 2010, the city of Topeka will be known as Google, Kansas."
All righty, then.
Topeka's Name Change
If you think the decision to rechristen a city as Google is bad, hang on: According to The Topeka-Capital Journal, this isn't Kansas's first attempt at promoting itself through a shameless name change. And the last one, I think it's safe to say, is even more embarrassing.
Back in 1998, The Journal reports, Topeka took on the name ToPikachu. No joke here: While it sounds vaguely like some weird vegetarian dish, ToPikachu was actually part of a city-wide promotion tied into the launch of the Pokemon franchise. Topeka ended up being the center of Pokemon's official nationwide kickoff. So yes, it could be worse.
And hey, maybe Google isn't that bad of a name. After all, America already has permanent places like Accident, Md., Hooker, Okla., and Embarrass, Minn. (not to mention the always popular Intercourse, Pa.). Relatively speaking, a month of being known as Google is a small price to pay.
Let's just hope the Airframe Structure Support Boeing Advisory Group — better known by its very unfortunate acronym — doesn't approach Topeka with an offer anytime soon.
JR Raphael is a PCWorld contributing editor and the co-founder of eSarcasm. He's on Facebook: facebook.com/The.JR.Raphael