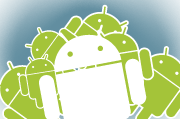 Before buying an Android phone, you should find out which flavor of the operating system you'll get. Each tastily nicknamed update delivers new features, so it's important to find out what your Android phone will have–and what it might be missing.
Android version 1.5 (Cupcake) Released April 30, 2009
Video capture and playback
Direct video upload to YouTube
Direct photo upload to Picasa
Bluetooth A2DP support
Desktop folders and widgets
Copy/paste expanded to Web pages
Updated software keyboard
Android version 1.6 (Donut) Released September 15, 2009
Gallery allows deletion of multiple photos at once
Enhanced Android Marketplace
Faster Voice Search with deeper integration in native applications
One interface for camera and camcorder gallery
Ability to search bookmarks, history, contacts, and the Web from home screen via Search widget
Text-to-speech engine
Android version 2.0/2.1 (Éclair) Released October 26, 2009
Spruced-up user interface
Animated wallpapers
New browser interface with HTML5 support
Microsoft Exchange
New contact lists
Bluetooth 2.1
Enhanced software keyboard
Built-in flash support and digital zoom for camera
Better white/black ratio for backgrounds
Android version 2.2 (FroYo) Released May 20, 2010
Overall speed and performance boost
Increased Microsoft Exchange Support
USB tethering
Wi-Fi hotspot functionality
Voice dialing and contact sharing over Bluetooth
Adobe Flash 10.1 Support
Android version 2.3/2.3.3 (Gingerbread) Released December 6, 2010
Native support for Internet calling
Enhanced copy/paste
Access multiple cameras on device
Native support for gyroscopes and barometers
Near Field Communication (NFC)support
Updated user interface for simplicity and speed
2.3.4
Support for voice or video chat using Google Talk.
Android Version 3.0/3.1 (Honeycomb) Released February 24, 2011
3.0
Optimized for tablets with a completely new user interface
Systems Bar gives quick access to notifications, status and soft navigation buttons
Widgets provide active access to content directly from your home screen or systems barNew multitasking feature lets you see snapshots of the most recently used apps
Tabbed Web browsing
Two-paned e-mail interface
3.1
Additional user interface refinements
Support for USB devices attached to tablet, so you can use an external keyboard, mouse, joystick, gamepad or storage device
Expanded Recent Apps list lets you scroll through recently opened apps
Introduced resizable widgets
Fixed image rendering problem in Android 3.0
Ice Cream Sandwich Official release in Q4 2011
Ice Cream Sandwich will be a combination of Gingerbread and Honeycomb into a "one OS that runs everywhere," according to Google. Google showed off a few of the new features of Ice Cream Sandwich at Google I/O 2011 including face-tracking for video calls and enhanced NFC support.
For comprehensive tips about Android and reviews of the best apps and devices to help you get the most out of the mobile operating system, order PCWorld's Android Superguide, on CD-ROM or in a convenient, downloadable PDF file.