Netbook pioneer Asustek Computer unveiled its first e-reader, the DR-900, at the Cebit electronics show going on now in Hanover, Germany.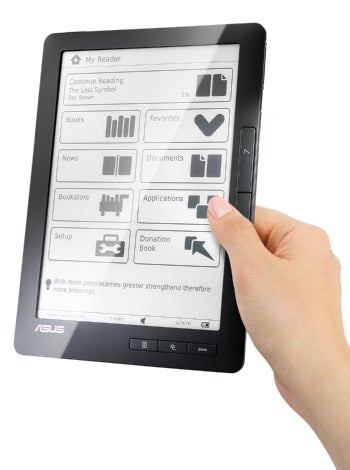 The DR-900 comes with a thin, 9-inch e-reader screen and includes Wi-Fi and optional 3G wireless connectivity, the company said in a statement. The e-reader is designed to ensure the batteries can last through 10,000 page turns, or around 20 or 30 novels, on a single charge.
"We deeply researched the habits of people who use e-readers and believe reading comfort and battery life are the two key factors," the company said.
A company representative said a price for the e-reader has not yet been decided, nor when Asustek will begin global sales.
Asustek CEO, Jerry Shen, said the e-reader will likely be launched to the market during the Computex electronics show in Taipei this June. He said Asustek planned to work with content providers in launching the e-reader.