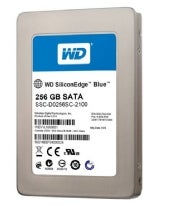 Solid-state drives are so plentiful that the fact a new drive is joining the fray is almost a nonstarter. That is, almost a nonstarter. This drive, the SiliconEdge Blue, is from Western Digital and is one of the first (if not the first) solid-state hard drives to be marketed to consumers. As one of the leading consumer hard drive manufacturers today, it is significant that WD is adding SSD to complement its strong lineup of internal and external consumer drives.
Over the past two years, as SSDs trickled into the marketplace, the initial reaction of hard drive makers was to talk about SSDs' weaknesses, and how the technology wouldn't be a replacement for magnetic media. Slowly, that perspective gave way to acknowledging that hard drives and SSDs can and will co-exist. And now, we have a hard drive manufacturer that's never had a consumer play in flash taking the jump into flash. (I make this distinction because companies like Samsung and Toshiba have manufactured hard drives, and have also been traditional flash powerhouses. WD, on the other hand, is a hard drive manufacturer that pursued acquisition of a flash business, and now runs it as a separate division.)
WD is an interesting choice to do an SSD, given that it's also the company that has brought us the 10,000rpm VelociRaptor drives. Many (but not all) of the applications that benefit from a superfast 10,000rpm drive overlap between SSD and 10,000rpm drive; right now, yes, there's a huge divide in price (as in a magnitude of hundreds of dollars)…but once that distinction erodes, it begs the question of, which technology will be the one promoted? That's not a question ready for answer now, but it will be a question going forward.
The WD SiliconEdge Blue is a 2.5-inch SSD, with sequential read speeds of up to 250MB per second, and write speeds of up to 170MB per second. In conversation, WD emphasizes that its drive has been through a rigorous integrity testing procedure (over 130,000 hours of qualification), using the same swath of systems that it uses to test hard drive compatibility. WD says its lab has found incompatibilities with its competitors on the market, and that this testing ensures the drive and its firmware are optimized for the widest possible spread of system.
One of the features WD adds to the equation is what it calls advanced wear-leveling and error correction, which together extend ATA-8 TRIM-like commands to systems not running Windows 7; this means the SSD can, in the background, do the data maintenance and clean up necessary for sustaining long-term performance benefits, without user invention.
The drives carry MSRPs of $279 for a 64GB drive, $529 for a 128GB, and $999 for a 256GB. The company didn't reveal where it expects the street prices to land.