Microsoft has sold 90 million copies of Windows 7 to date, making it the fastest-selling operating system in history, according to Peter Klein, Microsoft's chief financial officer. Klein made the comments earlier this week while speaking at the Morgan Stanley Technology, Media, and Telecom Conference. While most of what Klein had to say dealt with the Microsoft's financial expectations, the company's top number cruncher did discuss a few interesting things about Microsoft's product outlook for the coming year.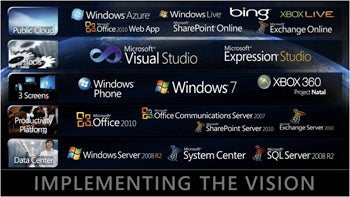 XP Switch Finally Happening
Windows XP may finally be heading into retirement as more and more users switch over to Windows 7. Business users were particularly hesitant to give up XP, but that trend appears to be changing, Microsoft says.
"We're now having conversations with the majority of our enterprise customers who are making plans to deploy Windows 7," Klein said. Business users were reluctant to make the switch to Vista because of compatibility issues with hardware, proprietary software, and Vista's perceived focus on security concerns over user experience.
Pipeline Is Fresh and Full
Klein also spent some time talking about all the new Windows products slated for release this year such as Windows Phones 7, Natal for Xbox 360, and Microsoft Office 2010.
"That's probably the richest pipeline of product delivery we've had in my eight years at Microsoft, and possibly in the history of the company," Klein said. For years, Microsoft has lagged behind competitors such as Apple and Google to deliver new and innovative products, particularly for mobile devices. Recently, however, Microsoft appears to be experiencing a resurgence of sorts as it refreshes most of its product line-up.
Xbox, Bing, and the Cloud
Other interesting quotes from Klein's speech include the fact that Xbox LIVE now has more than 23 million members worldwide. This is despite competition from free alternatives like Sony's PlayStation Network, which exceeded 20 million members early last year.
Bing, Microsoft's new search engine, continues to grow in popularity, and its numbers should increase thanks to recent regulatory approval of the Microsoft-Yahoo deal where Bing search technology will handle all search queries on Yahoo.
Redmond continues to move into the cloud in a big way as part of its oft-discussed three screens strategy. Klein said Microsoft wants to "have the most complete and consistent set of customer and user experiences across all devices and across all delivery models" to "deliver a common set of user experiences across PCs and phones and TVs all connected by the cloud."
If you'd like to read Klein's speech, you can download it from Microsoft (DOC), as well as an accompanying PowerPoint presentation.
Connect with Ian on Twitter (@ianpaul) or on Google Buzz.