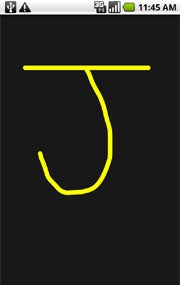 Android users, get ready to give your phone the finger.
Google's just announced a brand new app that lets you search your phone by drawing letters. Gesture Search, available for devices running Android 2.0 or higher, works by identifying your on-screen gestures and using them to dig through your contacts, apps, bookmarks, and music.
Gesture Search is still considered an experimental Google Labs project, so it's not perfect (nor is it available everywhere — it's limited only to U.S. users so far). Still, it's a cool concept that adds yet another dimension to the Android platform.
Here's a look at how it works.
Google's Android Gesture Search: The Basics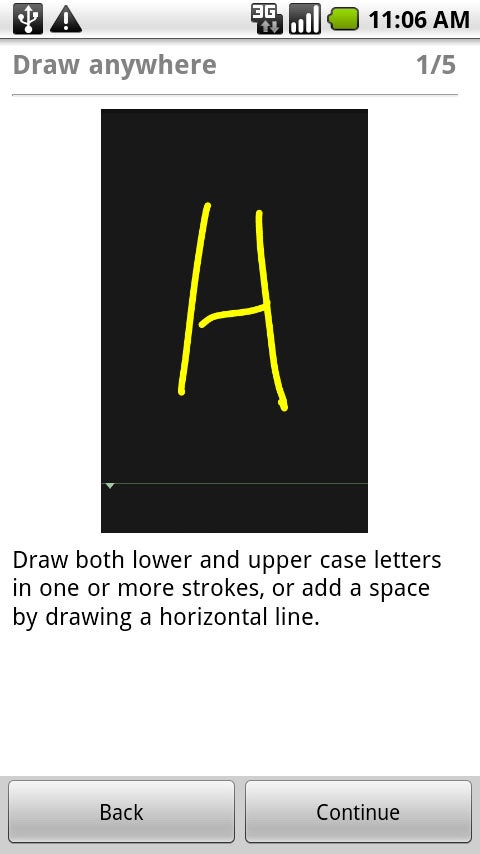 After installing Android Gesture Search, you'll be given a brief on-screen demo of its commands. The instructions are pretty straight-forward and easy to understand: You draw any letter on the blank space of the screen to start. Search results will then begin showing up based on your first letter; you continue drawing additional letters on top of the results to refine the search.
(Click on any of the images to enlarge.)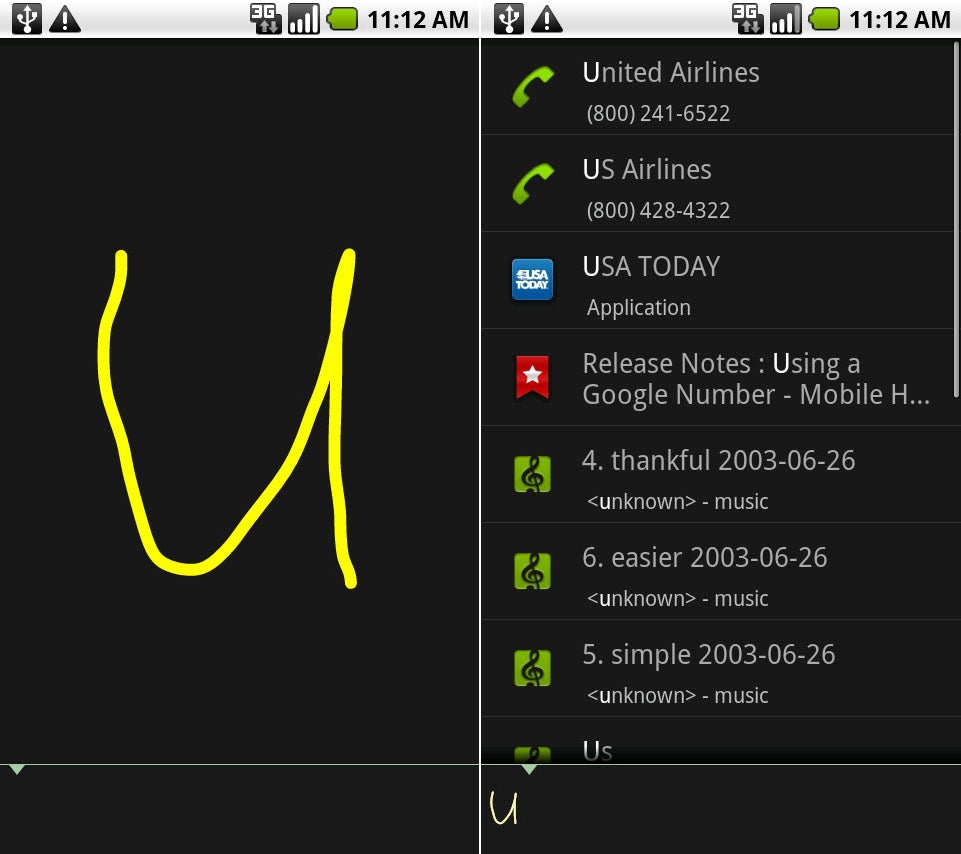 I tried drawing a "U" (and if you think my handwriting is bad in mobile app gesturing, you should see what it looks like on actual paper). Within a second, a list of results popped up on my screen: a couple of contacts beginning with the letter, a USA Today app, a Web site I'd visited that had a prominent word beginning with "U," and a few music tracks on my phone that I'd downloaded and still had listed as "unknown artist."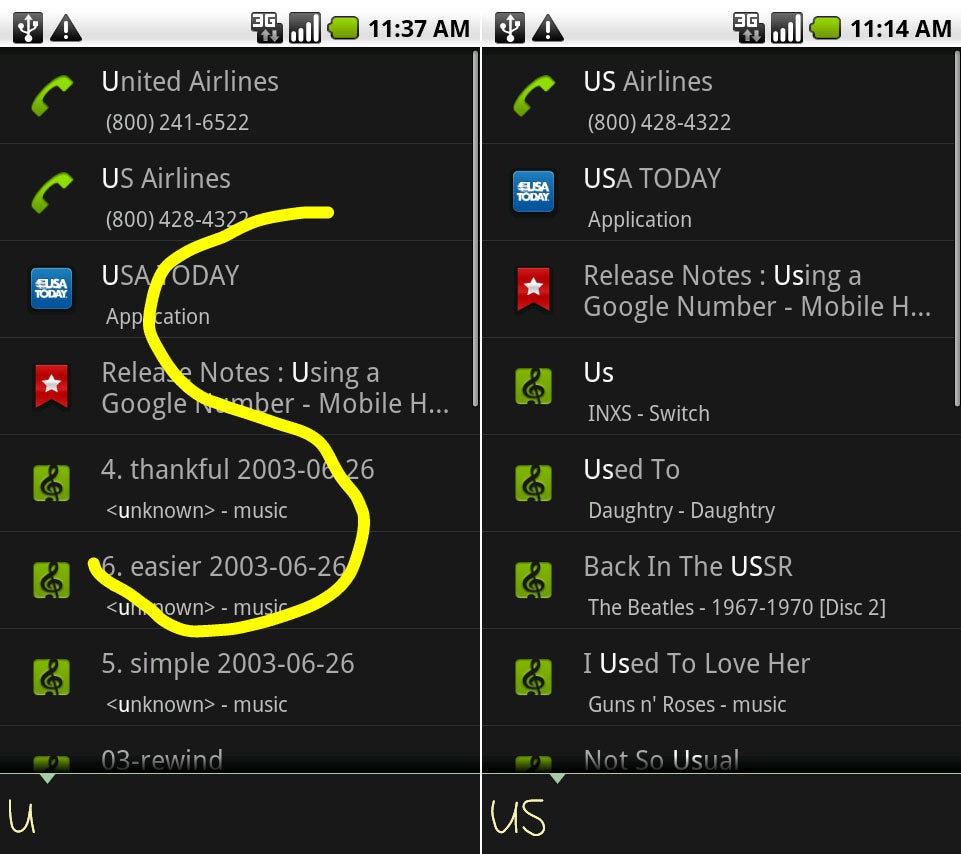 By then drawing an "S" over the results, I expanded my query and caused the results to shift. At this point, only items that included the letters "U" and "S" together were displayed. The more letters I added, the more refined the results became.
With Google's Gesture Search, once you locate the result you want, all you have to do is tap its line to open it — regardless of whether it's a contact, an app, a song, or a Web page. If it's a contact, you can also touch the green phone icon to call the person directly without ever having to open his or her profile.
If you make mistakes in your gesturing, there's no need to shed tears: Just use the app's undo commands to get back in business. Drawing a line from right-to-left in the bottom area of the screen deletes the most recently gestured letter; drawing a line from left-to-right erases the entire query and lets you start over fresh.
Customizing Google's Gesture Search
In my tests, Google's Android Gesture Search worked quite well: It consistently recognized letters I drew accurately and displayed relevant results every step of the way. There are, however, things you can do to improve the usefulness of the Gesture Search application.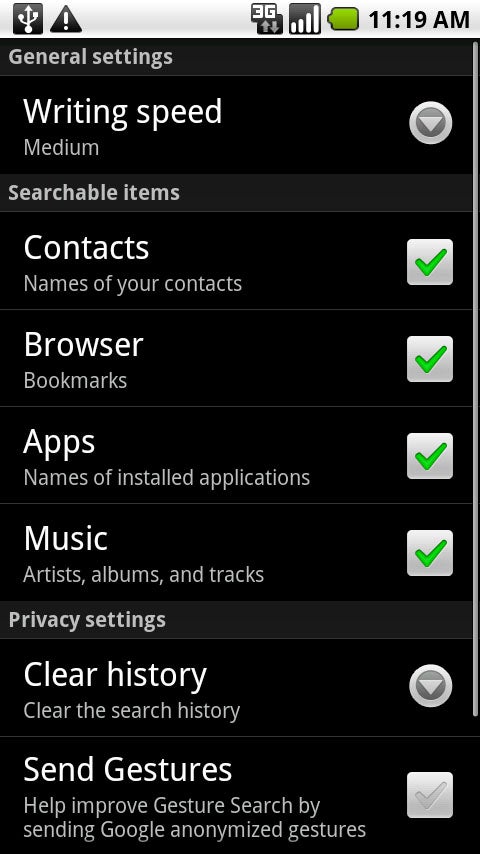 By default, Gesture Search indexes and searches your phone's contacts, browser bookmarks, and apps. By accessing the "Settings" menu (found by pressing your phone's Menu key and selecting "Settings"), you can tell Gesture Search to also search your music files. You can disable some of the other items as well — if, for example, you want to use the app for searching only contacts and not applications.
The "Settings" menu also offers an option to alter the writing speed, which may help if you're having issues getting your gestures drawn. I found the "fast" option to be a bit easier to use than the default "medium" setting, but the difference isn't enormous.
In the end, Google's Gesture Search by no means revolutionizes the Android experience. It does, however, add a nice layer of flexibility to the platform's already robust search system — and that's something you don't have to be an Android fanboy to appreciate.
JR Raphael frequently covers mobile technology for both PCWorld and eSarcasm, his geek-humor getaway. He's on Facebook: facebook.com/The.JR.Raphael