With cities going gaga to get Google's gigabit broadband, maybe more attention needs to be paid to the other end of the deal: What happens when Google leaves?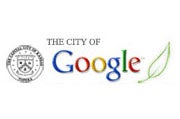 Sure, Topeka may be willing to rename itself Google, Kansas, for a month to get the company's attention and maybe even the broadband installation. But what happens at the end of what Google describes as an experiment? And for how long is Google willing to promise to operate and invest in the system?
Is Topeka, or any other city that nominates itself and is "lucky" enough to win Google's approval, ready to operate the network itself–and probably at a big loss–should Google retreat back to the Googleplex?
I would not want to be the mayor or councilman in a town that has grown accustomed to 1Gbps Internet connections when Google's money truck heads for the highway. How do you gracefully tell people that their new connection speed will suddenly be closer to 5Mbps?
Has Google considered what a public relations disaster it will be when half a million gigabit Internet junkies start suffering from bandwidth withdrawal? Given the company's recent history, such forethought seems unlikely.
To explain this another way: I have been a cyclist for many years and when talking about bikes with someone in the market for a new ride, I always warn them, "Don't test-ride bikes that you can't afford."
Why? Because once they spend any time on a high-end bike, they won't be satisfied with what they can actually purchase. Trust me, a $4000 Titanium racer handles and feels much different than a $1000 aluminum bike. Why set yourself up to be eternally unhappy with what you can actually afford?
Sure, I'd like to have a gigabit Internet connection, though it's not clear precisely what I'd do with one. Download huge files I don't need just for the thrill of watching an HD motion picture arrive in just a few minutes? Send HD live video to someone off the giganet who won't have the bandwidth to appreciate it?
The point here is that whatever cities are willing/able to do to get Google to anoint them with super-speed broadband, the most important part of the contract could be the exit clause.
And speaking of what cities are willing to do for attention, Topeka is really just playing. Renaming itself Google for just a month? That's wimpy. How about renaming itself Google, Kansas, forever if the network is installed?
Such an arrangement is how the town of Hot Springs, NM, became known as Truth or Consequences (Pop. 7,200).
Somehow, I don't see Sergey, Larry, and Eric traveling across the country every year for the next five decades to celebrate "Google Days." As for Topeka and all the other Google kiss-ups, you've been warned.
David Coursey has been writing about technology products and companies for more than 25 years. He tweets as @techinciter and may be contacted via his Web site.