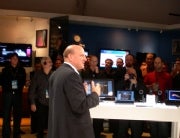 Seventy percent of the 40,000 people who work on software at Microsoft are in some way working in the cloud, CEO Steve Ballmer said Thursday at the University of Washington.
"A year from now, that will be 90 percent," he said.
In a wide-ranging talk to computer science students at the university, Ballmer explained why he thinks cloud computing is important and how Microsoft aims to take advantage of the trend toward hosted computing services.
"Our inspiration, our vision … builds from this cloud base," he said. "This is the bet, if you will, for our company."
All Microsoft products including Windows, Office, Xbox, Azure, Bing and Windows Phone are driven by the idea of being connected to the cloud, he said. While some recently introduced products like Windows 7 included a lot of work that is not cloud-based, the inspiration for the product starts with the cloud, he said.
Beyond software, Ballmer also described Microsoft's different strategies for creating devices that connect to cloud-based services. "The cloud wants smarter devices," he said.
He admitted mistakes in the way that Microsoft historically approached the mobile market, giving hardware makers a wide range of potential for form factors. "We didn't standardize enough. The cacophony of form factors for you, the user, was too high," he said.
Microsoft has unveiled a new version of its mobile software, Windows Phone 7, which has a much stricter set of hardware requirements. Still, it should have more options for hardware makers to innovate than some Microsoft competitors like Apple and Research In Motion where "you get what they choose to build for you," Ballmer said.
In the case of its Xbox gaming console, Microsoft uses that same strategy. But Ballmer hinted that there could be some variety with the Xbox. "You might have more form factors in the future for different price points and options," he said.
Ballmer also said that Microsoft wants to help foster the development of different cloud-computing services, both private and public. "How does the cloud become something that not just Microsoft and four other companies run on the behalf of the whole planet? How do we give the cloud back to you?" he said. "You should be able to, if you want, run your own cloud."
In some cases Microsoft may be eager to help organizations run their own hosted environments because it doesn't make sense for the company to do so itself. For instance, a government might have regulations that hosted data be kept within the country's borders. But in a small country, Microsoft may not be interested in making the investment. "This company is not likely to build a public cloud in Slovenia any time soon," Ballmer said. Instead, Microsoft would like to sell a set of products built around its Azure cloud services that a country like Slovenia can buy and implement itself.
The potential benefits of cloud computing for companies and researchers are immense, Ballmer said. For instance, he talked about how bringing the world's poorest out of poverty will likely mean that those people will consume more energy. "We need to speed up the rate of scientific innovation" that can help solve climate change issues before that happens, he said. Researchers might be better able to run experiments quickly and analyze more data if they are able to access public cloud services, he said.
The cloud "will create opportunities for all the folks in this room to do important research and build important projects," Ballmer said.
The hosted computing model creates new possibilities for businesses too. "I think we are seeing and will continue to see where there are literally new software investments that create new business models, new opportunities to start and form businesses because of this commercial software infrastructure that's never existed before," he said.
For instance, a new company might only have the resources to offer a product to people in its local community. But if it can use hosted computing, it can offer the product to a wider audience, paying for the compute services as it uses them rather than investing in a data center up front.
Ballmer also suggested that the cloud might even make some open-source developers more interested in commercializing their developments. "With the advent of this new commercial infrastructure, some inventors can now ask, how can I monetize this, how can I get an economic value from the innovations that I get a chance to create," he said.