Think your home inkjet printer is just for printing out boarding passes and driving directions? Give it a new lease on life. Here's how to use your printer to label things, play games, design a clothing line, and more. Whether you're feeling productive, playful, crafty, or creative, there's a project here for you–and it won't require specialized (or expensive) equipment.
Make Super Models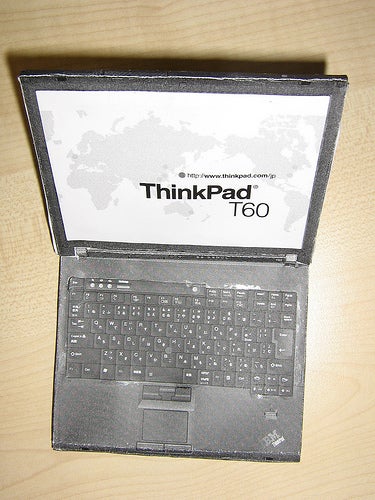 You don't need to buy a huge kit or a set of expensive tools to start building models. Just look into Papercraft, a do-it-yourself modeling community that uses nothing but printers, paper, and tape. All you have to do is print out the model sheets, cut them out, and follow the instructions, though they can be as simple as a basic box shape or as complicated as this papercraft replication of a classic IBM Thinkpad laptop, complete with accurately modeled internal parts.
Paperkraft.net is a good place to start–this papercraft blog is updated daily with all kinds of new models, including plenty of contributions based on retro tech, sci-fi, and video game themes. My personal favorite is the official Street Fighter II set.
Print Your Own Posters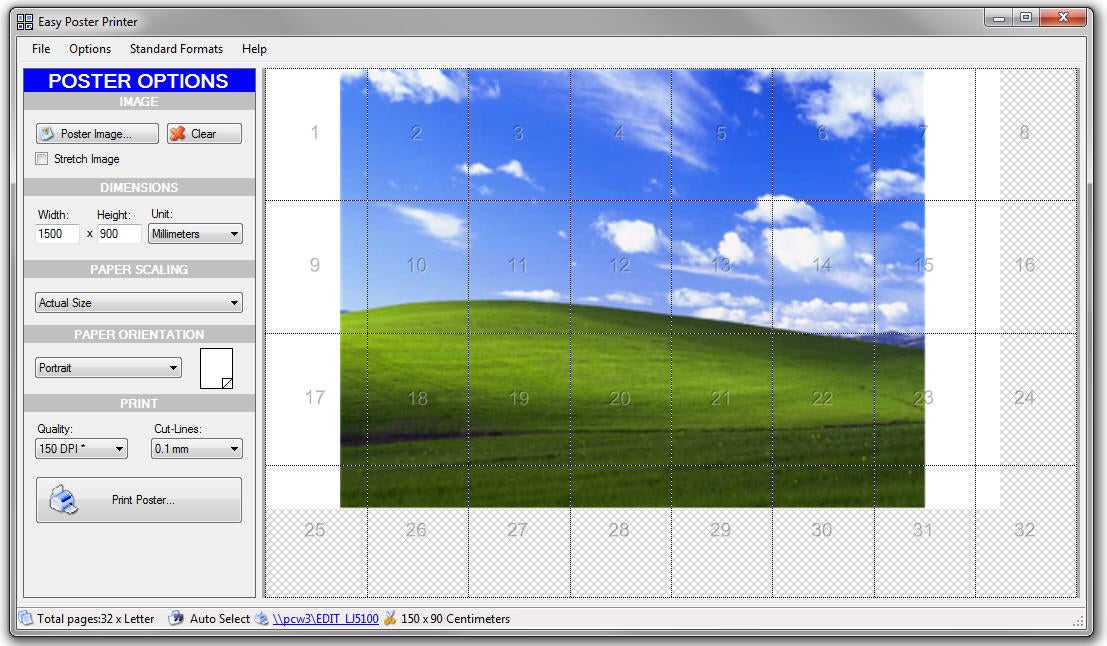 You don't need to break the bank at your local music store to plaster your wall with pics of your favorite band. Here's a faster, cheaper, and easier way to do it: Just pull a few high-resolution images from Google Image Search, run them through a poster-printing app, and you'll be able to print them out on letter-sized pages from your printer and assemble them yourself. Some printers have their own poster-size printing functions (look in the Page Setup dialogue box), but I prefer to use the Rasterbator and Easy Poster Printer–apps that can take an image and blow it up into readily printable letter-sheet-size chunks you can tape together.
This is particularly useful for students who have a small dorm-decorating budget (and some extra printer credit at the end of a semester) and really want some larger-than-life LOLcats on their walls. Of course, you'll have to shell out for some photo-quality paper if you want your posters to have that glossy look, but it's still cheaper than buying posters from the store, and you're not limited to a store's selection, either.
Get Organized
Whether you need to label your file folders, stick name tags to your personal possessions, or simply remind yourself that a stapler is, in fact, a stapler, your printer can get the job done.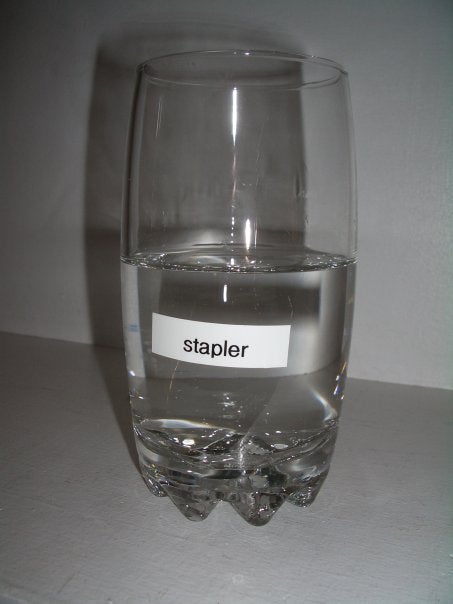 Load up any inkjet printer with a label sheet, and you can guarantee that everything in your house or home office has that clean, organized look. With the right templates, your printer can push out everything from address labels to name tags. If you're using Avery label sheets (or cheaper brands with the same dimensions, like Worldlabel), don't forget to grab the Avery Wizard app for Microsoft Office–using the manufacturer-supplied templates can help you avoid misprints and save you time and money.
But why stop there? Your stack of burned discs with the barely-legible permanent marker tags are so 1998. Give your carefully crafted mix CDs some extra street cred with print-out disc labels. If your printer is one of certain models from Epson or HP (the HP Photosmart D5360 and C5280, or the Epson Artisan 50/710/810 and Stylus Photo 1400 and R1900), your printer may have a special tray that supports direct printing onto special CD/DVD disks, saving yourself the hassle of buying separate disc labels and the risk of messing up an optical drive if a label comes off or gets stuck.
Home brewers, on the other hand, will want to grab some waterproof labels to class up their operation a bit–it's no fun being a do-it-yourself beer or wine snob if you're still using masking tape and Magic Marker to label your bottles. (This also makes your homemade hooch more appropriate gift for a house call.)
Get Your (Old-School) Game On
A printer might not be much of a match for an Xbox 360 or Playstation 3, but with a little imagination on your part, it can be a pretty solid game machine in its own right. Simple print-and-play games like word searches, crossword puzzles, and dot-and-boxes sheets are readily available on Google if you're looking for a low-tech way to amuse yourself (or the kids) during a long car ride. HP even has a printable version of tabletop football available, in case you feel like your finger-flicking field goals need more flash.
However, you can find plenty of printer games that cater to the more discriminating gamer. Start by hunting through BoardGameGeek.com, a Web site devoted to the art (and craft) of making and playing board games, many of which are free to download, print, and play. Just use the site's Advanced Search button, click Filter on Board Game Category, and check the Print and Play box to see a full list of games with instant gratification.
Your printer can also supplement your existing gaming habits, too. Dungeons and Dragons enthusiasts can use the Dungeons & Dragons Character Builder app (free demo available) to keep track of your characters and loot, complete with readily printable character sheets. Feel like getting back into Magic: the Gathering but don't want to fork over obscene amounts of money on cards? MagicCards.info has printable proxy images of every card in every single series, so you won't need to take out a second mortgage to get back in the game.
Conserve Ink on Web Print-Outs
By now, any decent Web page should have a link to a "printer-friendly" version of its content, especially for things like reservations, e-tickets, articles, or maps. Sometimes, though, they're just not that great. Maybe you're running low on ink and it simply won't print without the images, or the formatting is off and you'll waste paper.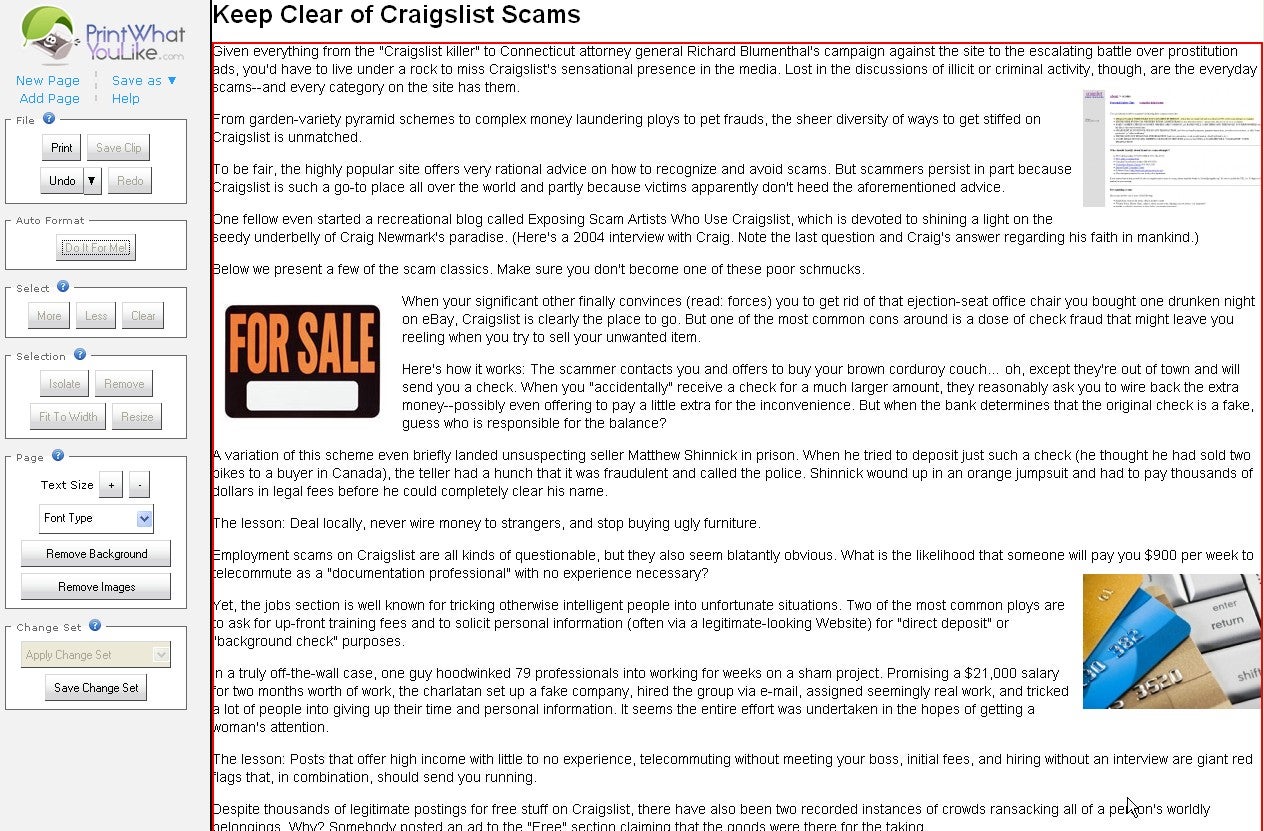 Never fear, PrintWhatYouLike.com is here. Just plug in an URL (or use the handy-dandy bookmarklet) and the site will open up a copy of your desired Web page, with a sidebar that lets you pick and choose which text fields, images, and other page elements to print and how it should look.
Design Your Summer Line
Funny T-shirts may be plentiful, especially from online stores like Threadless or BustedTees. But at $20 pop, the cost-to-chuckle ratio is laughable. Making your own out of plain T-shirts and iron-on inkjet transfers, however, costs significantly less: Iron-ons are about $6 apiece.
Such do-it-yourself designs can be a great way to liven up your T-shirt wardrobe without spending more than what you do on work clothes–and if you find some designs that really stick, you can opt to get those T-shirts printed in a more permanent fashion elsewhere. (Read "Design Your Own T-Shirt" for more tips on T-shirt design and printing.)
Of course, you don't need to stop at t-shirts, either. Most iron-on transfer sheets work with any fabric blend that is at least 50 percent cotton, so you can print your own tote bags, trucker caps, and more.
Throw a Party
"Party" might not be the first thing that comes to mind when you think of printers. However, the amount of free printable party decorations on the Internet is absolutely mind-boggling: Epson's CreativeZone, HP's Creative Studio for Home, and Canon's Creative Park are good places to start for party kits for everything from pirate parties to Kung Fu Panda lanterns. You can also download plenty of home decorations to spruce up your home or party venue, including a collection of projects by Martha Stewart. Banners, invitations, place settings, nametags–it's all here for your kids and adults parties alike.
Take Close-Up Photos
If you have a multifunction printer with a built-in scanner, here's how to go beyond boring old document scanning: Use them to take close-up shots, just by putting stuff directly on the scanner glass. It's called "Scanography," and the results can be both beautiful and bizarre.
Scanners typically have a rather shallow field depth (generally about half an inch at most), and they take much longer to process an image than a digital camera, so the clearest images come out with flat inanimate objects, like flowers and leaves, which can yield a very vivid high-resolution image that a camera cannot. Of course, these shortcomings can be used to artistic effect, as well. Scanning a human face, for example, will obscure most of the face in shadow (due to the field depth), and if the subject moves at any time the image will be "wavy" and distorted.
Have your own printer projects (or pictures) you'd like to share? Post them in the comments!
Patrick Miller is a staff editor for PC World. Find him off-duty @pattheflip.