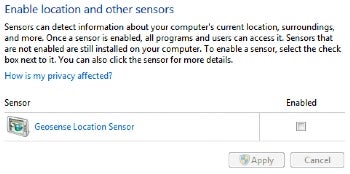 It would be downright nutty to put a GPS sensor inside your desktop (unless maybe you're sporting one of those super-small media nettops). But what if you wanted to enjoy the perks of mobile device geolocation at your sedentary workstation without the hassle of adding new hardware? Geosense for Windows 7 has you covered.
Geosense takes advantage of Windows 7's support for geolocation sensors. It uses a combination of methods to calculate your location without GPS; this includes Wi-Fi triangulation, cellular signal triangulation, and IP address lookup. The information it gathers can be used in any application that uses geolocated data.
What does that mean? For starters, it could eventually mean that you won't have to manually input your location when looking up directions. You'll also be able to add location information on your desktop to popular social networking services such as Twitter, Gowalla, and FourSquare.
Of course, the issue of privacy will be your full responsibility. At least on your mobile phone when you broadcast geolocated information, that info may become outdated as you move from place to place. But if you tweet about your brand new Samsung 3D HDTV and your location, I hope you also buy a guard dog when installing Geosense.
Also, as of right now there are very few Windows apps that can take advantage of geolocation, though the Geosense site links to a couple of examples (including the Windows 7 weather gadget). Firefox 3.5 or later has geolocation capabilities built-in.
Nonetheless, if you keep a steady head and broadcast your location information responsibly, Geosense may make your desktop computing experience more efficient and interactive.
Follow GeekTech on Twitter or Facebook. No geolocation required.