So you're on the airplane, ready to watch Zombieland on your iPhone, when suddenly you realize you have no stand, no way to prop it up at a comfortable viewing angle.
Take it from me, holding your iPhone (or Droid, iPod, Zune, or any other movie-viewing device) for two hours is no fun. No fun at all.
Solution? Check your wallet. If you've got an old hotel room key, gift card, or similar piece of stiff plastic you're willing to sacrifice, you've got the makings of a killer phone-stand.
And it'll take you exactly five seconds. Just bend the card in two places so it looks like this: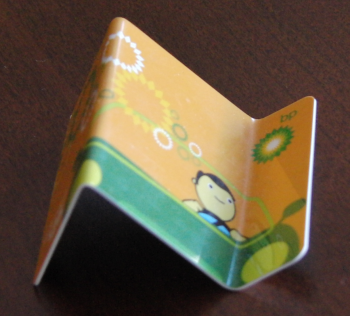 For my stand I used a depleted BP gift card. It works like a charm (see below), and I can even flatten it out when I'm done and put it back in my wallet for the next time I need an impromptu stand.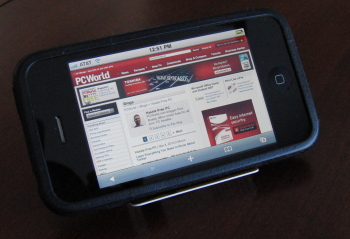 Now, before you race to the comments to extol my genius, let me give proper credit: This awesome idea came from Instructables (where you can find more pictures and, if necessary, instructions).
If you know of a faster, easier, cheaper, or better way to prop up a small screen, well, prove it. The comments section awaits.