At a Glance
Expert's Rating
Pros
Well-integrated Organizer conforms to standards
Has lots of tools, including a new Camera RAW Lab
Cons
Organizer lacks side-by-side comparison view
Project Creator is a separate program
Our Verdict
For photo editing, Corel PaintShop Photo Pro X3 has some great tools and versatility. The package is poorly integrated, however, and the new front and back ends leave a lot to be desired.
In Corel PaintShop Photo Pro X3, Corel has redesigned PaintShop Pro's interface, added a handful of useful features, and enhanced others. In addition, the company has added "Photo" to the product's name, to emphasize a focus on the photography-enthusiast market. But X3 ($100 as of March 5, 2010) is far from a compelling upgrade.
Corel PaintShop Pro has a reputation as a well-established and generally respected program for consumers and hobbyists who want a wide diversity of image editing tools and creative control. Despite that, it has always been an also-ran in comparison with the better-known products from Adobe.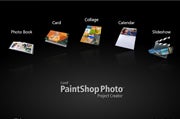 Oddly, the X3 software package requires separate installations of its three components: PaintShop Photo Pro (the main program), PaintShop Photo Pro Project Creator (the new output project utility), and Painter Photo Essentials (for making painterly images from your photos). In fact, PaintShop Photo Pro and Painter Photo Essentials have two different serial numbers that you have to input. And integration among the components is nonexistent: To use Project Creator or Painter Photo Essentials, you have to open the desired program separately. This arrangement is almost acceptable with Painter Photo Essentials, given that it really is a distinct application, but Project Creator should be part and parcel of PaintShop Photo Pro, the way similar functionality is available in competing programs such as Adobe Photoshop Elements.
The most significant change in X3 is PaintShop Photo Pro's new Organizer. While the previous version had a floating palette within the main program for accessing and organizing your photo library, the Organizer is an entirely new window. Conforming to what is now the industry standard, the Organizer is positioned in front of the main app, giving you space to name, rate, tag, caption, and sort your photos, as well as to view metadata. Unfortunately, it offers no side-by-side comparison of images, making sorting and choosing among similar images cumbersome. In addition, if you want to access pictures that are stored on a network drive (as opposed to saved on your local computer), you must first map that network drive through Windows Explorer.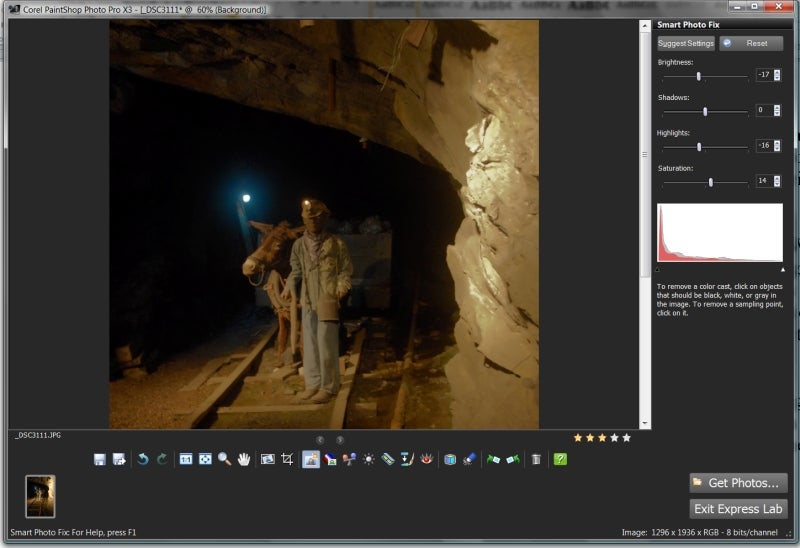 Within the Organizer, you can do some quick edits via the Express Lab. In Express Lab you'll find a nice set of tools that go beyond the basic functions and allow you to edit exposure and color, to correct facial imperfections, and to sharpen; the selection of tools also includes one-click noise reduction. When saving the edits, Express Lab asks if you want to 'Auto-Preserve' your original image, which is very useful. You can apply the edits to batches of other images in the Organizer, too.
The Organizer also supplies tools for handling RAW file formats, including the new Camera RAW Lab and the ability to convert batches of RAW files to another file format. Camera RAW Lab doesn't have the depth of Adobe Camera RAW, and it lacks the ability to adjust midtones. However, given how much more affordable PaintShop Photo Pro is in comparison with Adobe Photoshop, these omissions are not surprising–and Camera RAW Lab still does the job for typical hobbyist DSLR users.
Double-click any thumbnail in the Organizer, and the image opens in the main application window. The PaintShop Pro interface remains quite familiar, with its usual rich and deep range of features for editing and enhancing photos. Docked at the left is a learning center, which provides useful guidance on what the selected tool is and how to use it (and when you no longer need the learning center, you can close it). Corel has enhanced a handful of tools with easier-to-use and more-comprehensive options, such as the depth-of-field adjuster (for blurring all but a focal area as though the image were photographed at a high f-stop) and the text tool. A few new tools are in the mix, too. Most notable among them is the Smart Carver, which contracts sections of a picture primarily to delete extraneous objects or people; it works best, though, when the background is homogeneous enough for a smooth transition.
The most significant change to the app is one that goes unseen on the surface. Corel optimized the program for multicore processing, focusing on improving performance for the larger image files that a typical DSLR camera now produces.
PaintShop Photo Pro has no direct link to Project Creator; instead, you have to open the latter as a separate application from the Windows Start menu. Once open, Project Creator is the conduit for creating, editing, and outputting photo books, cards, collages, calendars, and slideshows (the last of which can now include HD videos). In addition, Project Creator has output options for Facebook, Flickr, and YouTube, as well as links for backing up data and ordering photo prints and projects online. Starting up a project is simple: Select a project and name it, and the program presents you with a Windows Explorer-like interface that displays thumbnails of pictures in the selected folder. To choose the pictures you want to use in your project, you drag and drop them into the holding area at the bottom of the screen.
Unfortunately, Project Creator has a number of irritating problems. The first is that it doesn't show the names of subfolders in alphabetical order, so we wasted time looking for specific folders. Also, if you previously installed Corel Digital Studio on your system, even if you have since uninstalled it, Project Creator may have difficulty displaying any image thumbnails. (Corel knows about this bug and is working on a patch.) In addition, we found Project Creator more sluggish than the rest of the suite. And once you've created the project, your options are limited. For instance, while you can choose from among several different shapes and sizes of picture placeholder templates, you can't custom-edit the placeholders for size to make them fit the photos; as a result, you must either allow the program to crop your pictures or accept empty space around your pictures within the placeholder.
We were disappointed in this package of PaintShop Photo Pro, primarily because we have a lot of respect for the quality and versatility of the main application. Certainly, the core program continues to be a worthy contender in the photo-editing market, and the new Express Lab (which builds on PaintShop Pro's strengths) is a solid addition that goes the extra mile with a wide range of easy-to-use tools. But with additions to the front end (the Organizer) and the back end (Project Creator), Corel has failed to deliver a well-integrated, well-thought-out new version, which makes the PaintShop Photo Pro X3 upgrade feel something like a downgrade.